Description
Still looking for a perfect light and high-performance Spot Flood Combo Beam Led Light Bar at the best price for your trail? Epiccross™ 12D Reflector dual row Led Light Bar is your top pick for off-roading. 
Related Video
 About this item
●Trusted Hyper Bright: A class high quality LED chips, total 1020 watts, with lighting performance 11000LM/PC. Features a trusted ultra-bright, high-intensity, stable light output. Improves driving safety with a clearer, wider, and further visual area. And lifespan extends over 50,000 hours.
●Perfect Spot Flood Combo: LED Light Bar for Truck Combining 30°super spot light in the middle and 160°flood light at two sides. Get you both a high-intensity spot light for further distance and also a bright flood light at broad distance. Clear all darkness forward and at side roads. A perfect lighting option for off-roading trails.
●Premium Durability: IP68 waterproof rated, powerful to withstand any harsh environments and weather conditions. Solid built in quality 6063 aviation aluminum housing and thick heat shrink shell, efficiently accelerate heat dissipation and maintain a safe temperature to ensure stable lighting output as well as lighting durability. Promised with 5 years warranty.
●Dual Mounting Solutions: Offer both bottom mount and end mount solution, you can install the light bar freely on your vehicle, less limits on the mounting position. Mounting angle adjustable.
●EMI/RFI Protection: Light pods are built-in EMC that meets EN55015 CE standards, limiting the generation of EMI/RFI interference. Provides better protection for both internal electronic components in lighting and also external objects like a radio receiver.
Features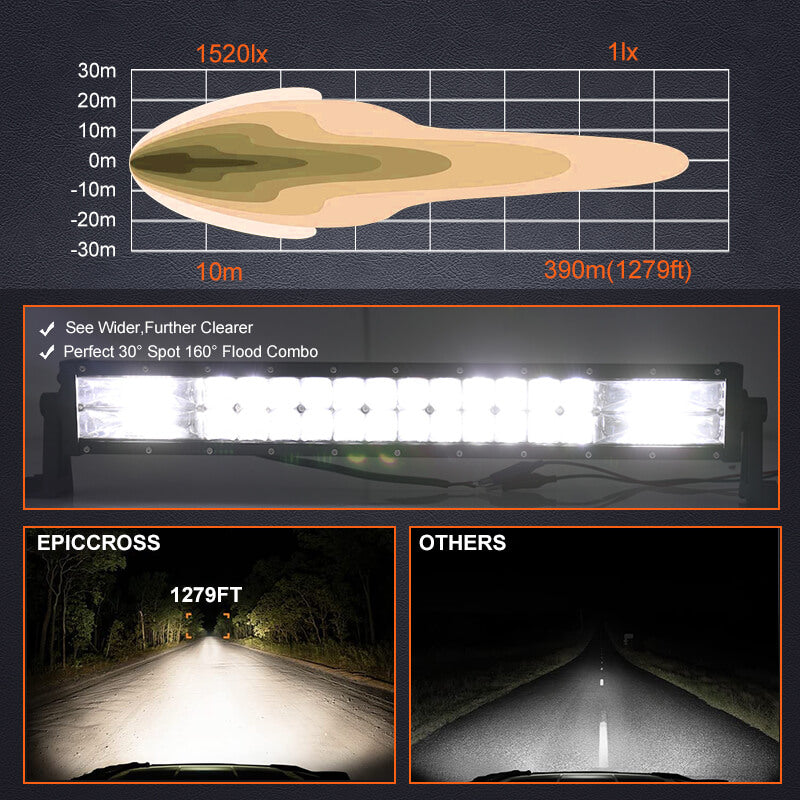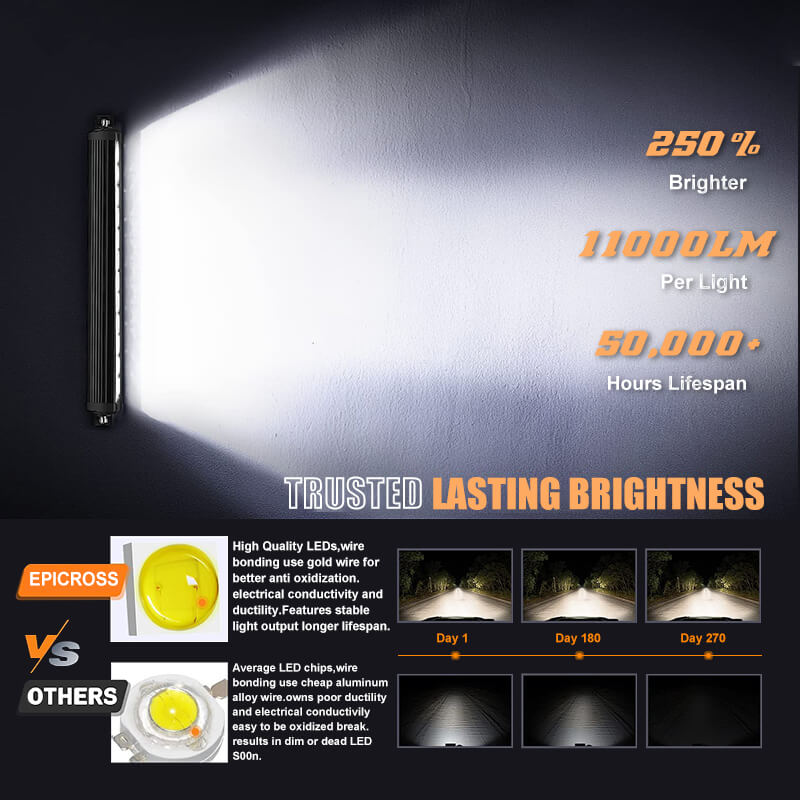 Heat Dissipation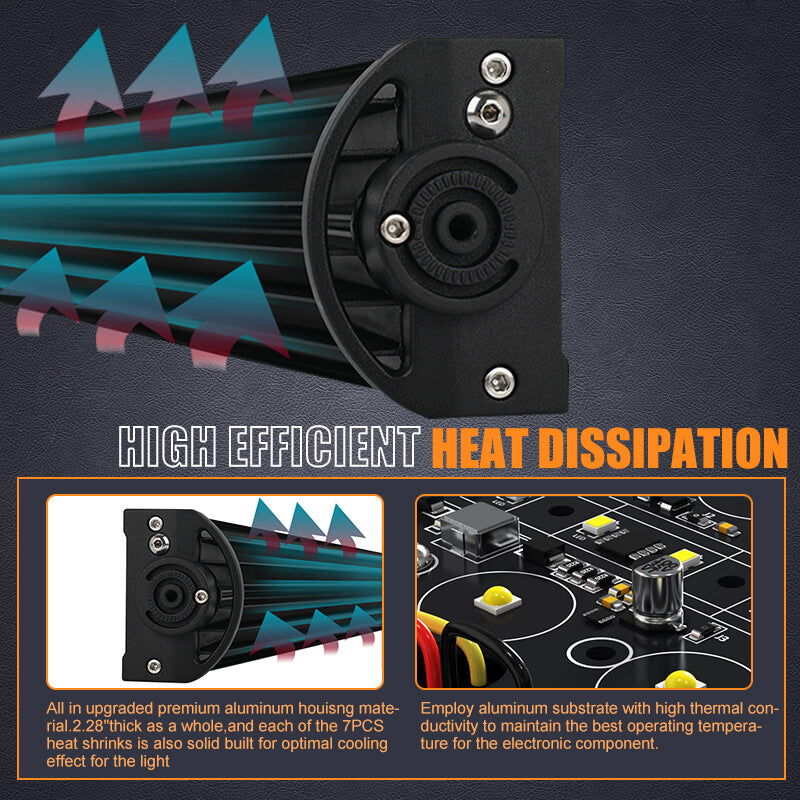 Upgrade Wiring Harness Kit
Customized upgrade wiring harness kit for White strobe light. This is a heavy-duty wiring harness with a standard wire gauge of 16 AWG, customized for Epiccross™ strobe light. With switches, high-quality relay, and fuse box, with 3 leads.
Efficiently Waterproof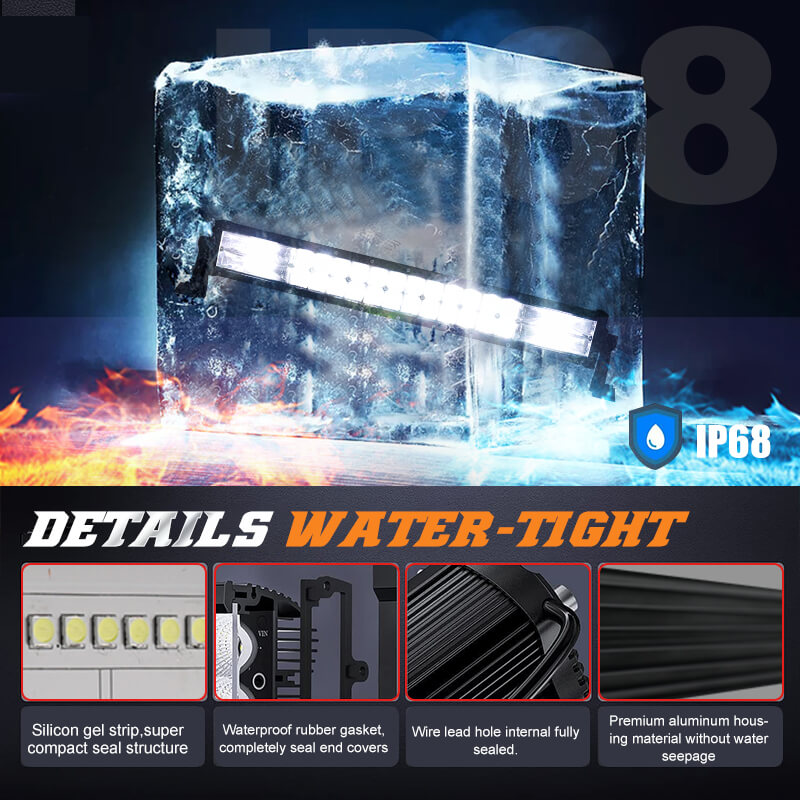 The inside are a waterproof rubber pad and silicone sealing strip, outer protective cover firstly protects against water and dust. Waterproof coefficient IP 68.
Applications: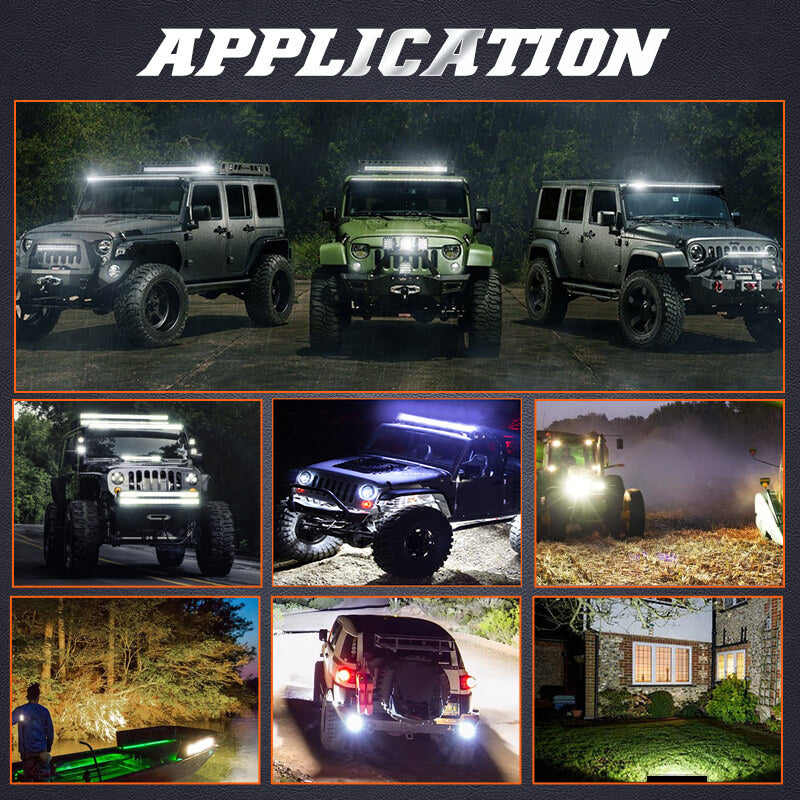 Applied positions: Bumper Light, fog light, headlight replacement light, windshield light, side light, roof light, back-up/reverse light.
Applied vehicles & equipment: Jeep, truck, Subaru, ATV, UTV, SUV, motorcycle, dirt bike, golf cart, lawn mower, tractor, snow blower, trailer, forklift, boat, excavator, dozer, harvester, etc.
Applied fields: Off-roading, firefighting, hunting, fishing/boating, farming/agriculture, construction, mining, gardening, household (Note: For household lighting, you need to use a voltage transformer/converter to convert the AC 110-120V To DC 12V.)
Package Included:
●1 x Wiring Harness Kit
●1020W LED Light Bar for Truck
●Adjustable Sides Brackets, Screws Set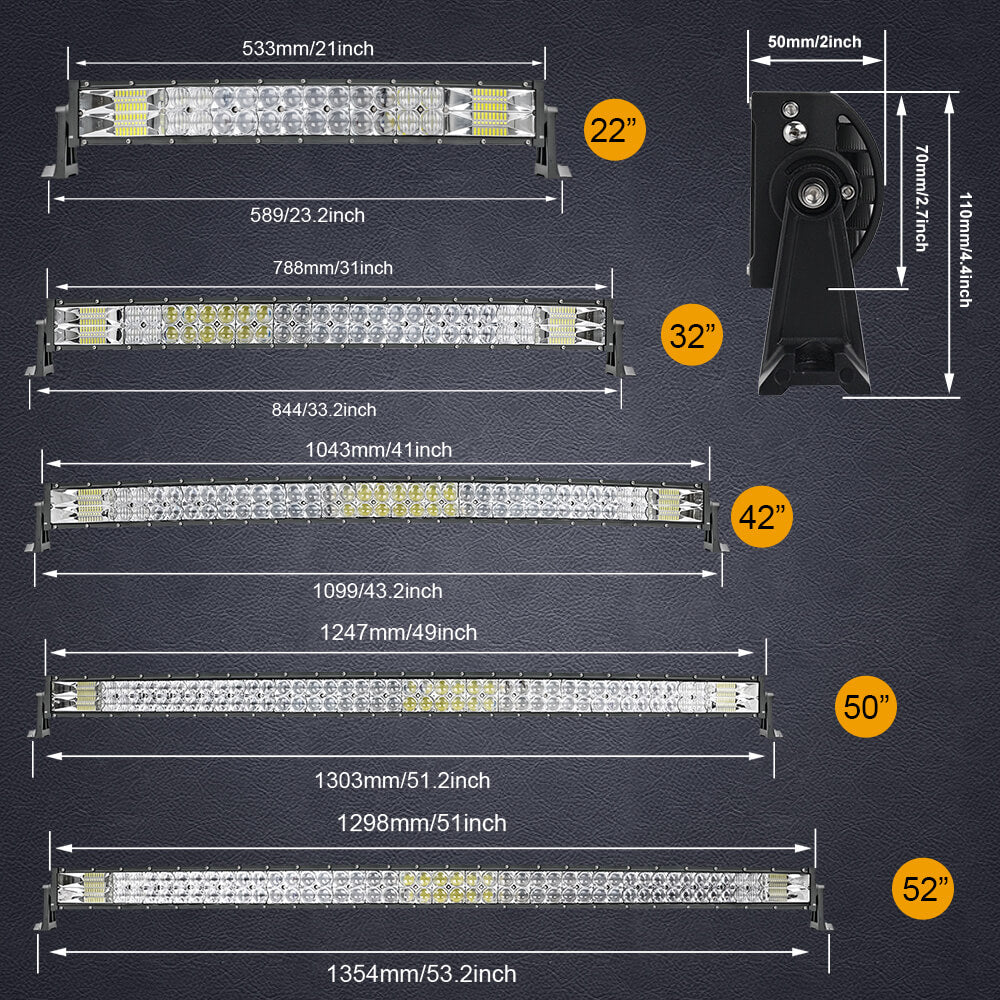 Looking for other sizes? Click here to learn more about the Led Light Bar.
Note:
They are aftermarket parts. NOT D.O.T. approved. Do not use if D.O.T. is required. Before installing this product, please check your state/provincial and local/municipal laws and regulations.
Buy X, Get Y
*Cost $69.99
*Get 1 item for free
*Not to be combined with other discounts
*The quantity of items specified below must be added to the cart
Buy X, Get Y
This light bar works amazing for the price! I would reccomend this to anyone looking for a good light bar without breaking the bank. The only setback i had was that some of the screw on the light bar came somewhat loose and there was no loctite on them. I went through and used loctite on every screw and havent had a problem even after three days of super hard rain. The instalation was very easy and the quality of the wires on the bar were very good quality. The light itself gets rhe job done. Very very bright down the road and around the whole area! I can see everything at night without a problem. The brackets are decent quality but the for sure have no problem keeping the bar in place.
My husband ordered this for my Quad and installed it on the front for extra lighting. In the winter time my trips to the barn to feed are often after dark. This unit really lights up the road and even the sides so I can travel safely. I love the bright white light!
Light bar
This is a really easy light bar to install. The brightness is ok but I wish it put out more
The order arrived quickly and the quality is not bad. The brightness is acceptable for me, I hope it can be used for a longer time.