Description
45W 5x7 LED Headlights
Epiccross™ 7x6 5x7 Projector Headlights 100% original Rectangle made of CREE LED chips, Black aluminum housing, PC lens and Durable aluminum shell body and Integral heat sink quick cooling performance,Design with breathing hole help to dissipate the moisture out. Waterproof shockproof & Dust proof & Quake proof &Rustproof & Anti corrosion, can be effective extension the lifespan over to 50000 hours.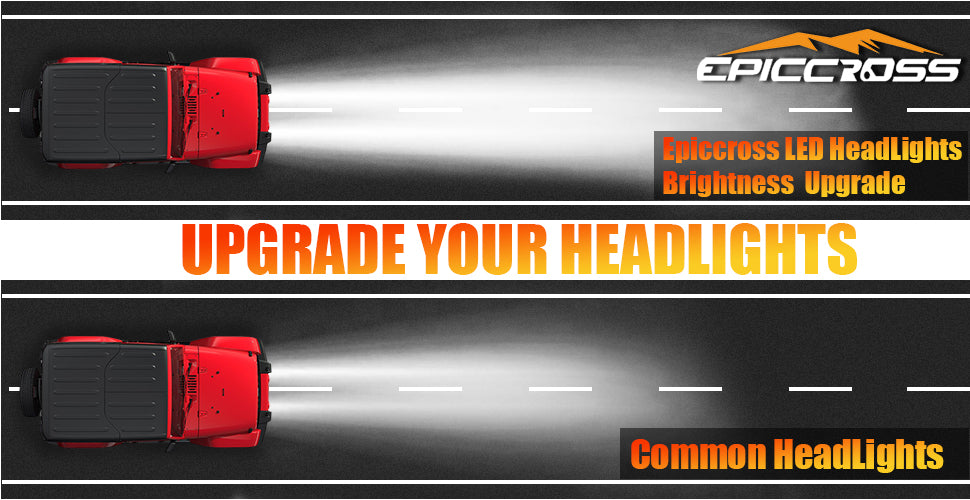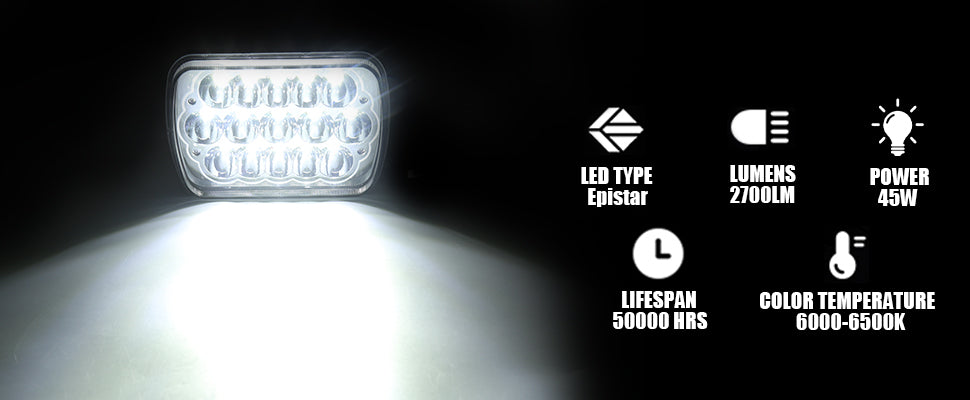 *High Performance Lights
The 7x6 5x7 Projector Headlights made of 45W Cree led chips provide you a bright and safe vision on the road.
Low Beam 2800LM; High Beam 5900 LM, the new generation cree chips.
6000K white color-temperature, not warm or cold, keep you calm and safe on the road.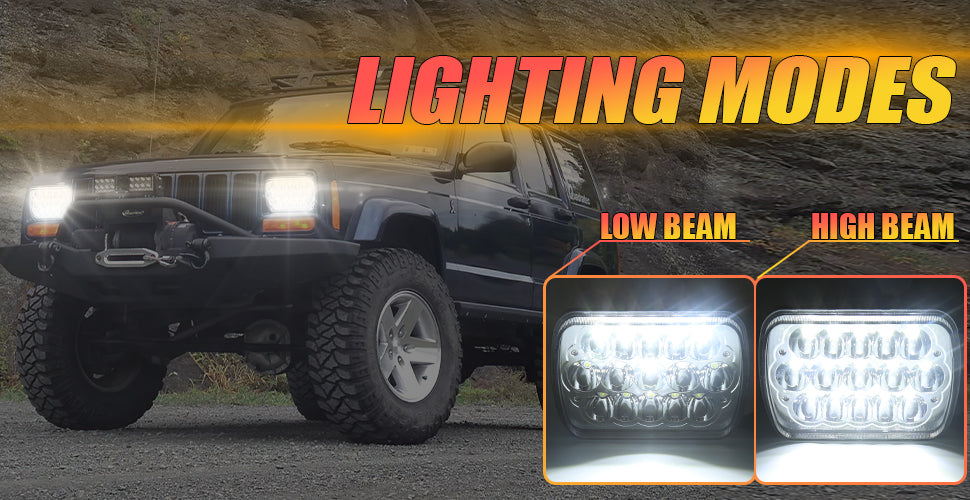 *Light Modes
*Wide Compatibility
Replacement for H6014 / H6052/H6054/6054/H5054/H6054LL/69822/6052/6053.
Compatible with any car or truck has about 7x6 5x7 Projector Headlights such as Jeep Wrangler YJ 1986-1995 and Cherokee XJ 1984-2001 and so on.
If you don't know your model fit for the headlight or not, you can reach to us.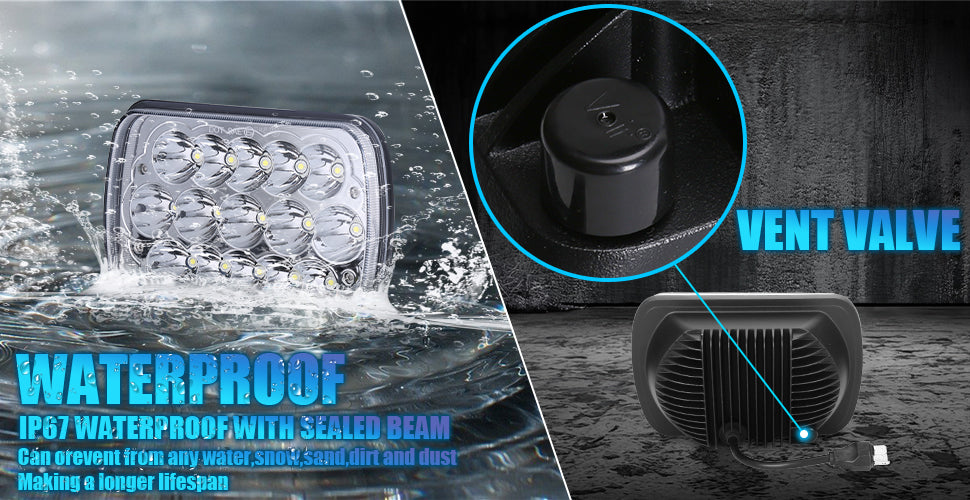 *Breathing Hole
Unique breathing hole
Easy to operate
Effectively remove moisture
If you find fog in the lamp, How to remove the moisture or water inside the lights?
Remove the waterproof valve from back of headlights
Light on the lamp for 1-2 hours
Put the valve back until the inside air out
Please do not forget to well keep the ventilation breather cap and re-install it after the moisture or water in the headlight disappear
*DOT Aprroved
DOT, SAE, E9 triple quality and safety approval.
The 7x6 5x7 Projector Headlights are flicker-proof, shock-proof, waterproof (IP67)
Over 50000 hrs lifespan, capable for long time working.
*Plug and play. Easy to install.
The square headlight comes with OEM H3 connector, no splicing, no cutting.
This superior led headlights usually only need about 15 minutes to install.
*Why Choose Epiccross 5x7 LED Headlights?
Built-in Canbus, anti-flicker.
Reduction in energy consumption.
With EMC: Anti-electromagnetic interference.
Intensity LED Chip, high brightness and longer life span.
With rebreather hole at the backside, highly waterproof.
Unique Design, exterior design is like a gemstone and diamond.
With High Low beam function.
*For Epiccross's Customer
If you are encountered following situation:
Do not fit for your vehicle.
Get foggy or light beam go out.
Defective lights or broken lights.
Missing some accessories or parts.
Causes fault code, trouble code, flicker or hyper flash.
JUST FIND ORDERS DETAILS AND REACH OUT TO SELLER
*Shop With Confidence
Not fit for your vehicle. Please return it back to us.
Cause fault code, flicker, moisture inside the light. Please contact us for solution.
Defective or light bulbs go out. We will send you new replacement.
Any problem with Epiccross lights, just feel free to contact us!
12 months warranty
FITMENT
Fit any car or truck with 7x6 5x7 Projector Headlights
Compatible with Chevy S10 Blazer Express Van/Jeep Wrangler YJ XJ Cherokee Truck Ford Van
Compatible with headlights: H4656/H4651/4651/465 /H4652/H4666/H6545 H6054 H6054LL 6054 H5054 H6014 H6052 6052 6053 69822
Compatible with Jeep models with 7x6 5x7 Projector Headlights:
1987- 1995 Jeep Wrangler YJ
1984 - 2001 Jeep Cherokee XJ
1986 - 1992 Jeep Comanche MJ
Compatible with GMC models with 7x6 5x7 Projector Headlights:
GMC Savana 3500 (1998-2002, 2004, 2007, 2009-2012)
GMC Savana 2500 (1998-2001, 2004, 2006, 2008, 2010-2012)
GMC Savana 1500 (1998-2001, 2003, 2005, 2007, 2009-2012)
GMC Safari (1998-2002, 2004, 2005)
GMC K3500 (1997-2000)
GMC K2500 Suburban (1997-1999)
GMC K2500 (1997-2000)
GMC K1500 Suburban (1997-1999)
GMC K1500 (1997-1999)
GMC C2500 Suburban (1997-1999)
GMC C2500 (1997-2000)
GMC C1500 Suburban (1997-1999)
GMC C1500 (1997-1999)
Compatible with Ford Models 7x6 5x7 Projector Headlights:
Ford F-550 Super Duty
Ford F-450 Super Duty,
Ford F-350 Super Duty
Ford, F-250 Super Duty
Ford E-350 Econoline
Ford E-250 Econoline
Ford E-150 Club Wagon
PAY ATTENTION
Some vehicles may have a different pin out (Low,High,Ground) than factory lamps
You have to re-arrange the pins
You can purchase a set of H4 9003 relay wiring harness.(Package not included)
TECH SPECS
Housing Color: Chrome
Led Power: 45W
Input voltage: 10-30V
Qty of LEDs: 15pcs*3W Epistar LED
IP Rating: IP67
Lumens: Low Beam 2800LM ; High Beam 5900 LM
Material: Diecast Aluminum Housing
Lens Material: PC
Lifespan: > 50,000 hours
Color Temp: 6000K White
Warranty: 12 months
Operating Temperature: -40-85 Degree Celsius
WHAT'S INCLUDE
1X Installation Instruction
2 pcs 7x6 5x7 Projector Headlights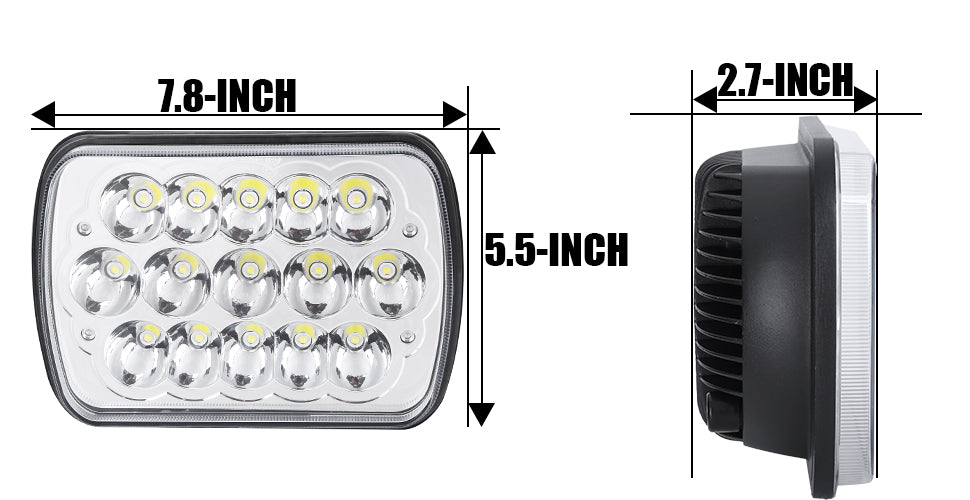 Buy X, Get Y
*Cost $69.99
*Get 1 item for free
*Not to be combined with other discounts
*The quantity of items specified below must be added to the cart
Buy X, Get Y