Epiccross™ Fishbone LED Tailgate Light Bar 60 inch
LY-EP-YGD150ZB
Regular price
$35.61
Sale price
$28.76
Save $6.85
/
Get 15% OFF Discount on NOV.1 - NOV 30.
Black Friday Discount Code: FRE22
●Super Bright Tailgate Light Bar: Truck LED Dynamic Taillight combining horizontal turn and arrow pattern turn signal light, show an ultra-bright lighting and more eye-catching patterns to improve visibility and safety.
●Full Functions Light Strip: This Fishbone LED Tailgate Light Bar have multiple functions such as driving lights, reversing lights, brake lights, turn signal and parking lights, will add a clearer visibility to the rear drivers. Running light mode in red scan from center to side, left & right signal turn mode in amber scan single side.
●IP68 Waterproof Flashing Lights: IP68 waterproof full sealed silicone, long service life, can withstand harsh weather conditions. High intensity LED lchips provide maximum coverage and high visibility during the day, night, raining or fog days, 200% brighter than normal single row.
●Easy and Quick to Install: Just peel and stick the Truck Dynamic Taillight pole with strong automotive adhesive enhancer, which can increase the holding power by more than 5 times, no worrying about falling off.
●Universally Used: The Truck Dynamic Taillight can be easily installed on any truck with at least 60 inch tailgate. Applicable to 12V-24v DC power supply vehicles, including fit for Ford, Chevrolet, GMC, Dodge, and most cars, pickup, trucks, SUV, RV, Van, trailers, etc. Add a stylish overall look and safety to your vehicle.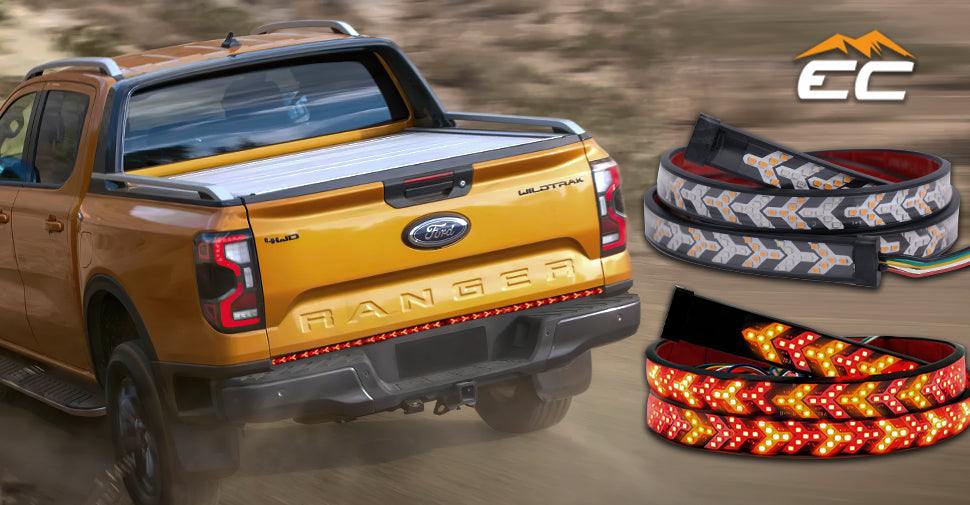 Want to Add Fishbone LED Tailgate Light Bar?
High intensity LED chips provide maximum coverage and high visibility during the day, night, raining or fog days. A must-have light bar to better ensure your security and enhance your truck's look.
60 inch LED Dynamic Taillight can be easily installed on most cars, pickup, trucks, SUV, RV, Van, trailers, etc.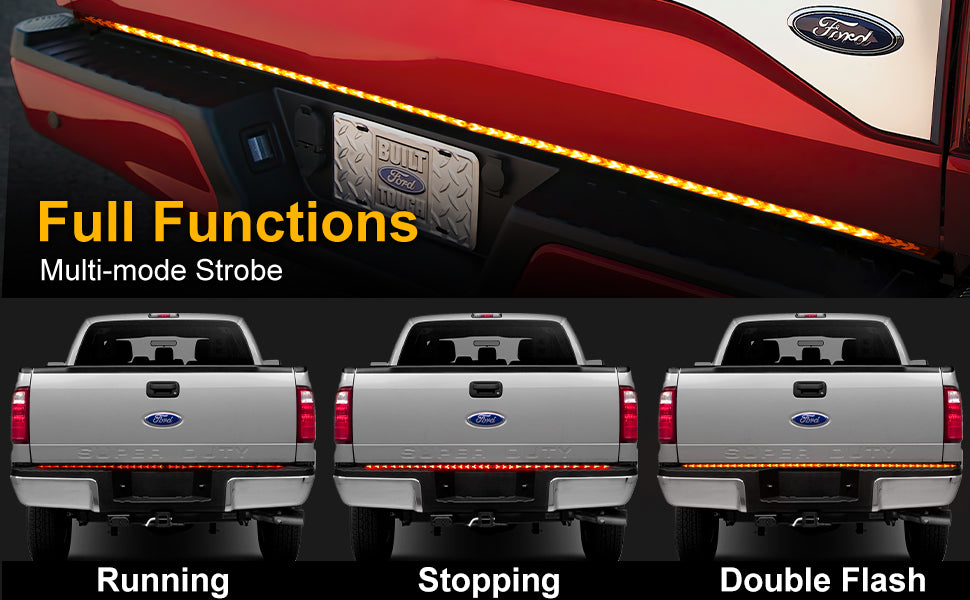 Power Connection:
●Red Wire: Connecting to acc(Acc+)
●White Wire: Connecting to Backing(+)
   Colour: Explosion-flashing red light
●Green Wire: Connecting to Turn Left Signal Positive(+)
   Colour: Yellow light streamer
●Yellow Wire: Connecting to Turn Right Signal Positive(+)
   Colour: Yellow light streamer
●Black Wire: Connecting to battery Negative(-)


Tech Specs:
Voltage:

 

DC-12V-24V
Light Mode:

 

Running turn signal + Arrow guide mode
Light Bar Size:

 6

0 inch
Life-Span: >50000hrs H
Waterproof: IP68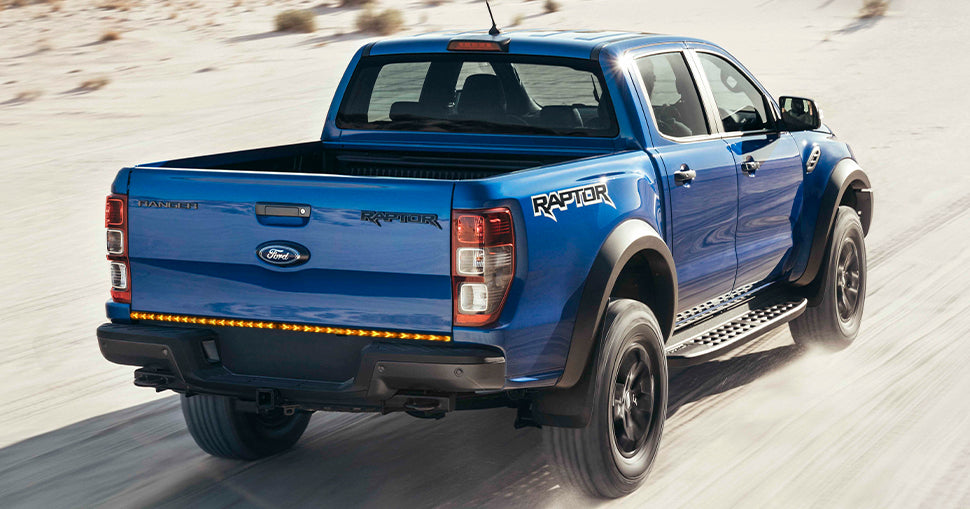 REFUND & EXCHANGE POLICY

 RETURNING & REPLACEMENT & REFUND

At Epicbeamled.com, customer satisfaction is always our top priority.

Our dedicated quality control and quality inspection team will inspect your items before shipment. The quality of our products is guaranteed. However, you do need to check the size carefully and accurately before buying. Please refer to the size chart on the product page.

On Epicbeamled.com, returns are as easy as 1-2-3! What can you lose! If you are not satisfied 100%, we will refund you. Therefore, we have covered it for you! Please contact us within 30 days of receiving the item to initiate the return process.

Returnable items
Items that can be returned/refunded or exchanged within 30 days of receipt must comply with the following standards:

1. Faulty items damaged/damaged or soiled upon arrival.
2. The received product size/color is incorrect.
3. Unwashed, unused and unused items that have not reached your expectations within 30 days after receipt.
If you encounter any of the above situations, please contact our support center as soon as possible.

If for any reason you decide that you no longer need the item. You can report it to us within 30 days of receiving it for a partial refund of the merchandise cost.

Non-returnable items
We will not accept returns in the following cases:

1. Items outside the 30-day warranty period.
2. Items that are washed, worn, used or misused.
3. Items that are damaged in the packaging.

Return process
1. Email us

-Contact us and explain the item you want to return and the reason for the return. Attach photos to resolve quality issues.

2. Make suggestions

-Professional advice will be provided. Our service team will provide you with detailed instructions.

3. Return

-Return the item to its original packaging and send it out through the local post office.

4. Refund or exchange

-After receiving your package, we will immediately process a refund or exchange according to the return conditions.

Return conditions
1. Please contact us within 30 days from the date of receipt of the order.

2. The returned items must remain unused in the original packaging. We do not accept returned items that are worn, damaged, cleaned or altered in any way.

3. We do not accept returned items sent directly back without evaluation or signal by the returning personnel. Please be sure to check the return with our staff first.

4. After receiving the returned goods, your money will be returned to you. Epiccross cannot refund, repay, underwrite or otherwise be responsible for any expenses not paid to Epicbeamled.com. This includes any customs duties or value-added tax, and any return shipping costs that you may incur during the refund process. The refund will be returned to the original payment method used for the purchase order. Once the refund is issued, you will receive a confirmation email.

5. For packages returned to us, we do not provide freight forwarding collection (FTC) services. Shipping costs for returned packages are non-refundable.

Return shipping fee and address
1. Please be sure to contact our after-sales customer service to get the specific address of the return!

2. All transportation costs are borne by the customer. This includes shipping costs for returns or exchanges. Shipping costs are non-refundable.

3. Please contact your local post office to confirm the actual return shipping cost. We recommend that you use the cheapest airmail registration method available

 
Processing Time:

We usually need 1-2 working days to prepare your orders, once we shipped, we will send you an e-mail.

About pre-sale products

All products marked with "pre-sale" are factory pre-sale products and are in production. It usually takes 30 working days to ship. Please estimate the time before ordering to avoid delay.

 Due to the weather and COVID-19,the shipping is longer than usual ,thanks for your understanding. 

SHIPPING TIME:

 America  (Excluding remote areas) 3-5 Working Days

Other Countries (Excluding remote areas) 3-5 Working Days

Some countries need to pay customs for customs clearance(the import duty amount), this is not included in the freight.                                      

Note:

The specific fee and transportation time depend on the distance of the area

If you have any further questions, please contact our services: sales@epicbeamled.com

Call us:

Our office hour: GMT+8:00 Mon. - Fri.  8:00a.m - 18:00p.m
I was hoping I'd be able to tap into the 4 prong plug, but because I have (bells & whistles) rear camera, rear sensors & max tow package on my 2017 F-150, I had to splice into the wires behind the tail lights. Spliced into the left tail light wires for the brake light, left turn signal & reverse light, and spliced into the right tail light wires for the right turn signal. The jumper wire was plenty long enough to reach both sides with just a little thinking involved. I've had numerous compliments, several co-workers asked where I got it when they noticed me turning into the parking lot at work in the morning. Even had one guy said he followed me for 2 miles just to find out where I purchased it. I didn't use the double sided tape, I used the metal clips provided. Awesome product, seems to be very well built.
I used this as a safety break and turn signal lights for our travel trailer and I can say that this setup is very bright and awesome!!! Definitely adds the safety I was looking for on extra break and turn lights on the back of the trailer!! The reverse or back up light is very bright and definitely lights enough to see behind the trailer!!!
Easy to install with minor electrical knowledge if hardwired is your choice. Functions as described by manufacturer. Adds a little enhancement to rear lighting and would consider it to safer running this on the rear of vehicle. Installed on 2019 F150 Supercrew
Great upgrade to truck lighting
Simple to plug into trailer connection, but I had it permanently installed into wiring harness leaving my trailer connection free. LOVE this light! Really bright, especially the back up lights!