Description
9 inch RGB Halo Jeep Wrangler JL Headlights
Epiccross™ 9 inch Halo headlights Wrangler with RGB halos are a great way to upgrade the visibility and look of the 2018-2021 Jeep JL. These headlights feature high output white LED lighting. It will shine brighter than your factory's incandescent lights.
These headlights also feature a cool masonry-like flowing RGB halo that adds a unique lighting effect to your Jeep, with lighting options that include all color options. Featuring various modes such as strobe, pulsating, and solid color. Use the free and also exclusive APP to make color/mode adjustments. Easier operation.
*High Performance Lights
The 9-inch LED Headlights also made with Cree chips with DRL, high beam, low beam and 121 kinds changing modes.
Low Beam 3200LM; High Beam 6000LM, the new Super Bright Cree chips.
6500K white color-temperature, not warm or cold, keep you calm and also safe on the road.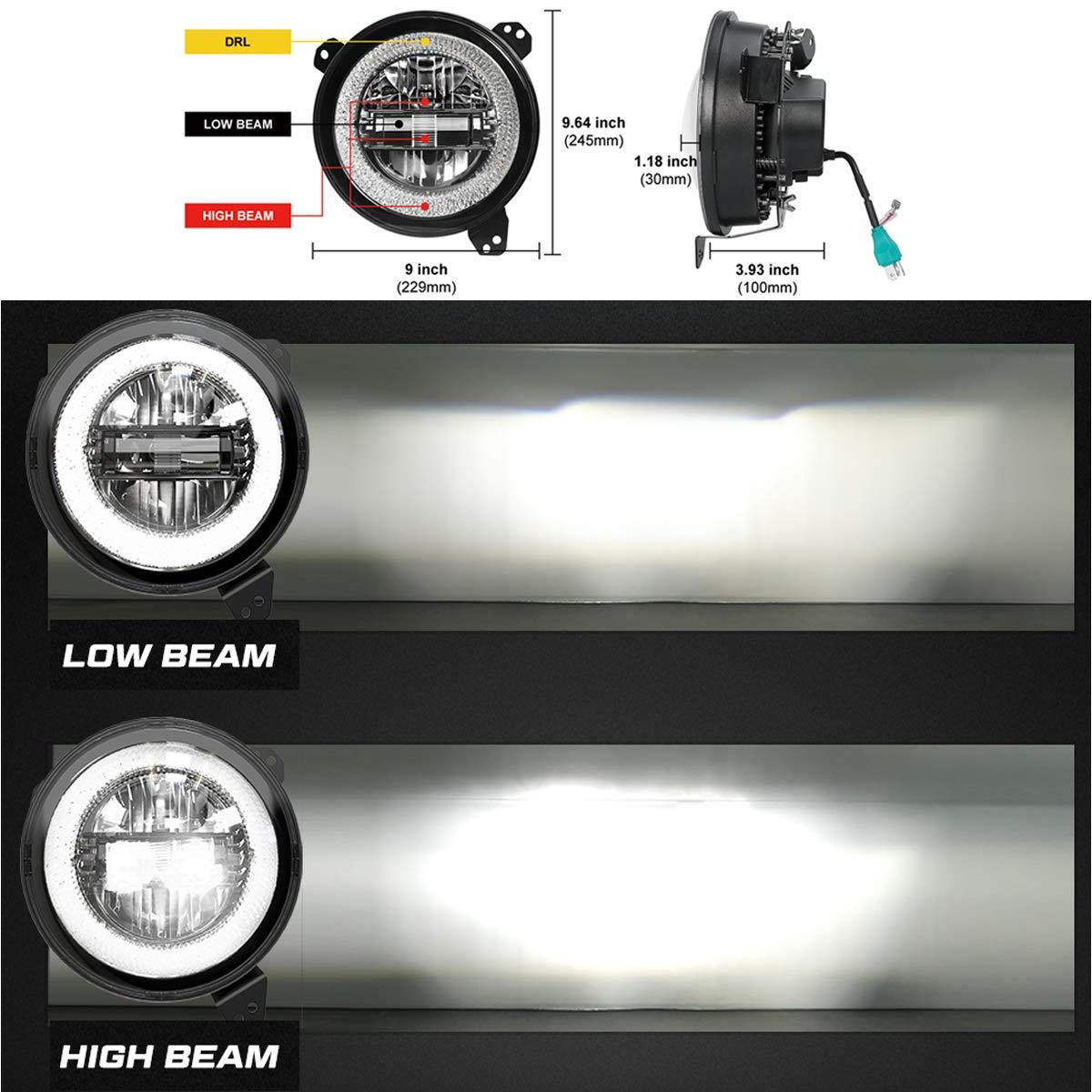 *Blue-tooth Connection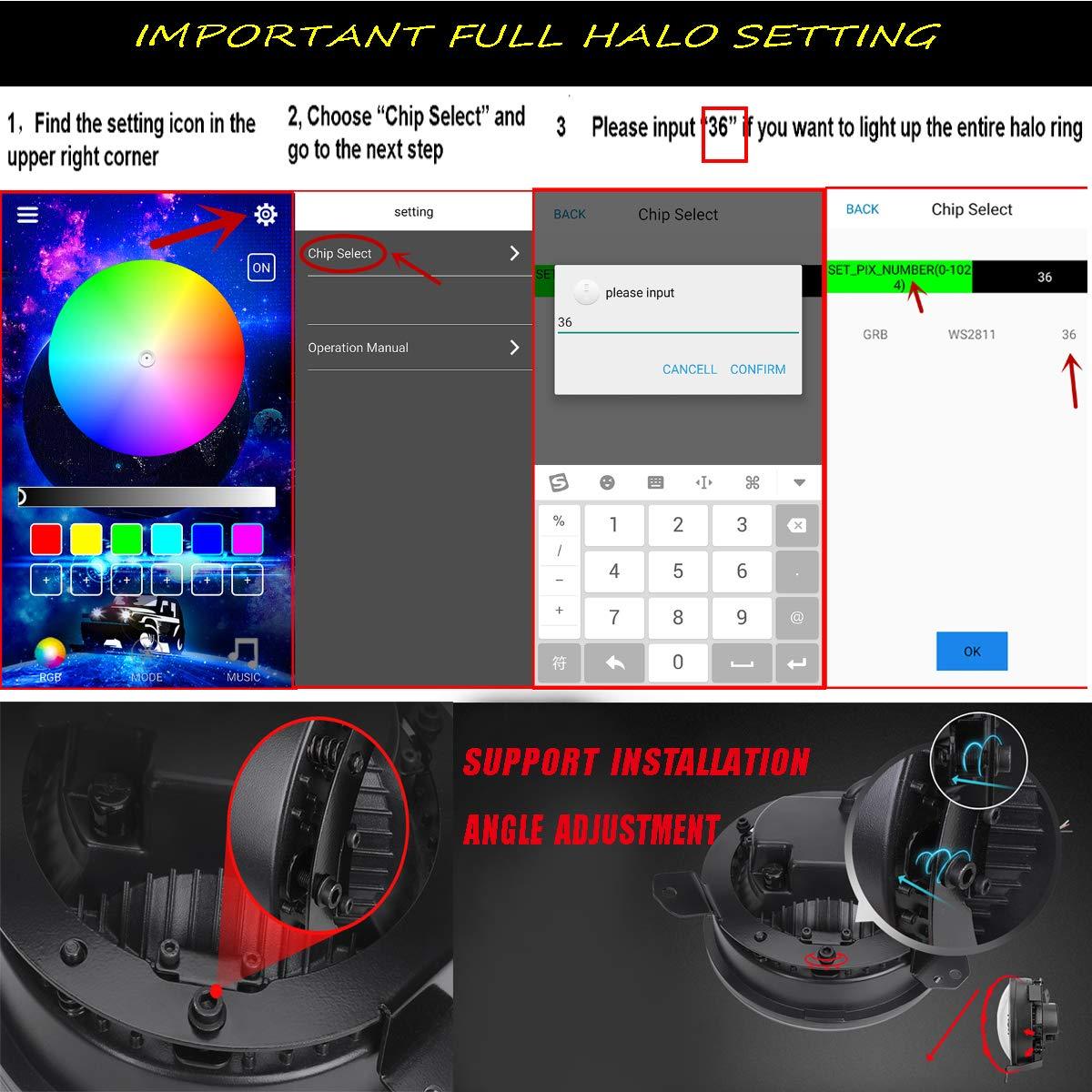 *Breathing Hole
Unique breathing hole
Easy to operate
Effectively remove moisture
If you find fog in the lamp, how to remove the moisture or water inside the lights?
Remove the waterproof valve from back of headlights
Light on the lamp for 1-3 hours
Put the valve back until the inside air out
Please do not forget to well keep the ventilation breather cap and also re-install it after the moisture or water in the headlight disappear
*DOT Approved
Legal on the road,easy Installation.
The 9-inch Headlight is flicker-proof, shock-proof, and also waterproof (IP67)
Over 50000 hrs lifespan, also capable for long time working.
*Plug and play. Easy to install.
The 9 inch Halo headlights also comes with H4 to H13 adapters, no splicing, no cutting.
This superior LED Headlights usually only need about 15 minutes to install.
*Why Choose Epiccross Jeep JL 9 inch LED Headlights?
EMC built-in
Plug and play
RGB Halo Ring DRL
Strobe /fading/flashing/running modes
6*10W high power led chip, super bright
Control by mobile phone app and Blue-tooth
With breather valve: better waterproof, dispelling fog inside
With High Low beam White halo DRL and also RGB function.
*For Epiccross's Customer
If you are encountered following situation:
Do not fit for your vehicle.
Defective lights or broken lights.
Missing some accessories or parts.
Causes fault code, trouble code, flicker or hyper flash.
Headlight do not fit for bezel or stock headlight mount.
JUST FIND ORDERS DETAILS AND REACH OUT TO SELLER
*Shop With Confidence
Not fit for your vehicle. Please return it back to us.
Cause fault code, flicker, moisture inside the light. Please contact us for solution.
Defective or light bulbs go out, and also we will send you new replacement.
Any problem with Epiccross lights, just feel free to contact us!
12 months warranty
FITMENT
for Wrangler JL Sport Rubicon Sahara 2018-2022.
TECH SPECS
Housing Color: Black
Lighting Color: RGB
LED Power: 30W Low beam, 60W High beam
Input voltage: DC 9-16v
Lumens: 3200LM Low beam, 6000LM High beam
Mounting Bracket: Stainless Steel
Material: Diecast Aluminum Housing
Lens Material: PC
Lamp Cup Material: PMMA+PC
WHAT'S INCLUDE
2pcs 9 inch RGB Halo Jeep Wrangler JL Headlights
Buy X, Get Y
*Cost $69.99
*Get 1 item for free
*Not to be combined with other discounts
*The quantity of items specified below must be added to the cart
Buy X, Get Y
I chose these headlights because I wanted to replace the factory halogen lights with LEDs, but I also wanted the ability to run RGB halos. I can't say enough about these lights, they're much more affordable than some of the more expensive options, but they work great and there are so many different configurations to choose from! Best of all, they are easy to install and don't require any wire connections if you buy these lights.
Best of all, they are easy to install and don't require any wire splicing if you buy a fuse. The only thing that would make this set better is if they just included the micro2 fuse as an option.
I figured it out
I'm not a car person so installing these was a little more than I was capable of BUT with some help I was able to do it myself. The instructions were not enough. I needed a 10mm and 12mm ratchet and extension to remove the headlights and connect them. Also a wire stripper/crimper and connectors. 1 plug goes to headlights, 1 to the wire harness and then the loose wires (2 to the battery, 1 is to ground). Once I had it all connected they turned on no problem and are VERY vibrant and saturated in color. I wish they didn't run directly to the battery in case I forget to turn them off but they are worth it. Also have something handy to organize the wires under the hood, I found wire tubing that fits but simple zip ties will also work.
Thank you very much for your support of our Epiccross. For the problems you encountered during installation, we will provide detailed installation instructions in future products.
Be sure to experience it yourself!
Really thought that the effect is far better than pictures and videos! Really excited! I really like this design!
highly recommended!
Perfectly adapted to my JL, plug and play, and easy to install. Especially this lamp has another circle of diamond cut surface, which is very beautiful. Highly recommended again!