Description
High Low Beam Jeep Wrangler LED Headlights
Epiccross™ Jeep Wrangler LED Headlights have Excellent lighting, durable structure, built-in anti-flicker hardness, no extra decoder, Black durable aluminum housing, and also shock-proof waterproof(IP67). Super heat dissipation function, new built-in EMC function used for preventing flicking and also conflicting with your bike radio.
*High Performance Lights
The Jeep Wrangler LED Headlightsmade with Osram LED chips provide you a bright and also safe vision on the road.
Low Beam 3000LM; High Beam 4800LM, and also the new generation LED Osramchips.
6000K - 6500K white color - temperature, not warm or cold, keep you calm and also safe on the road.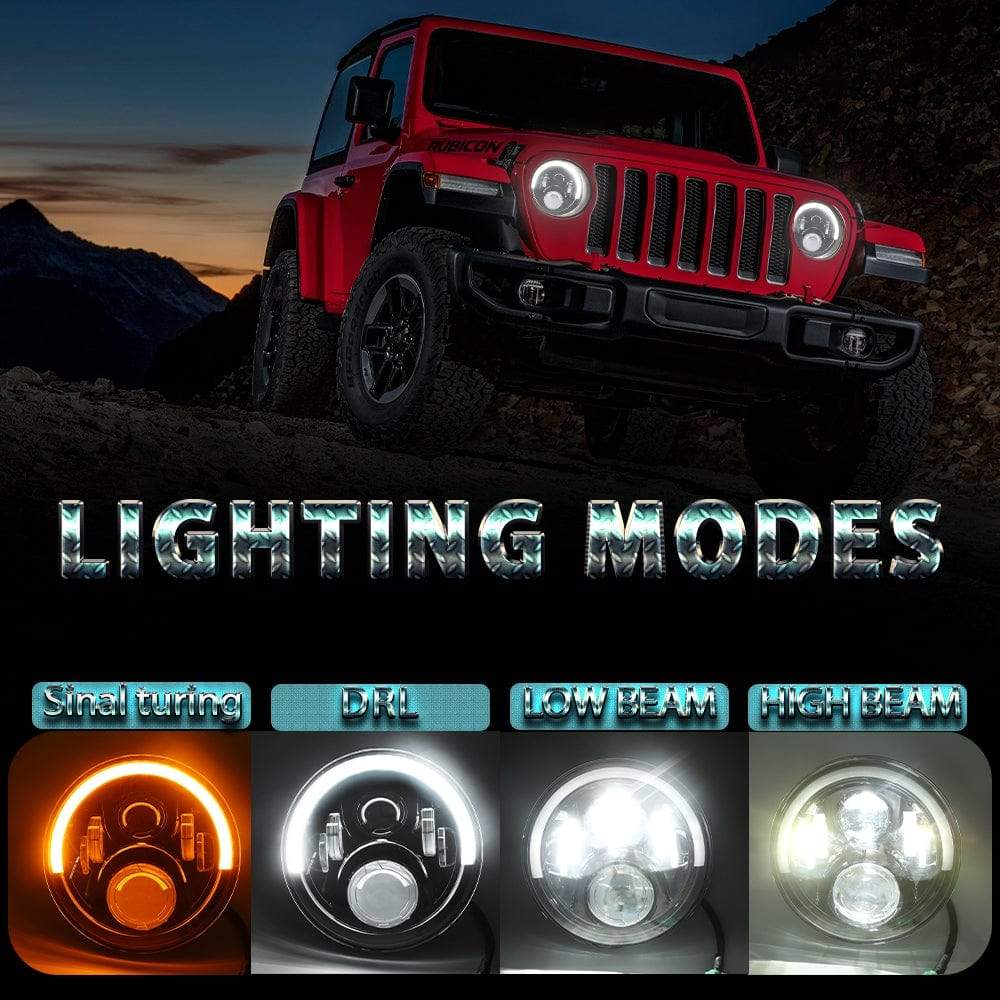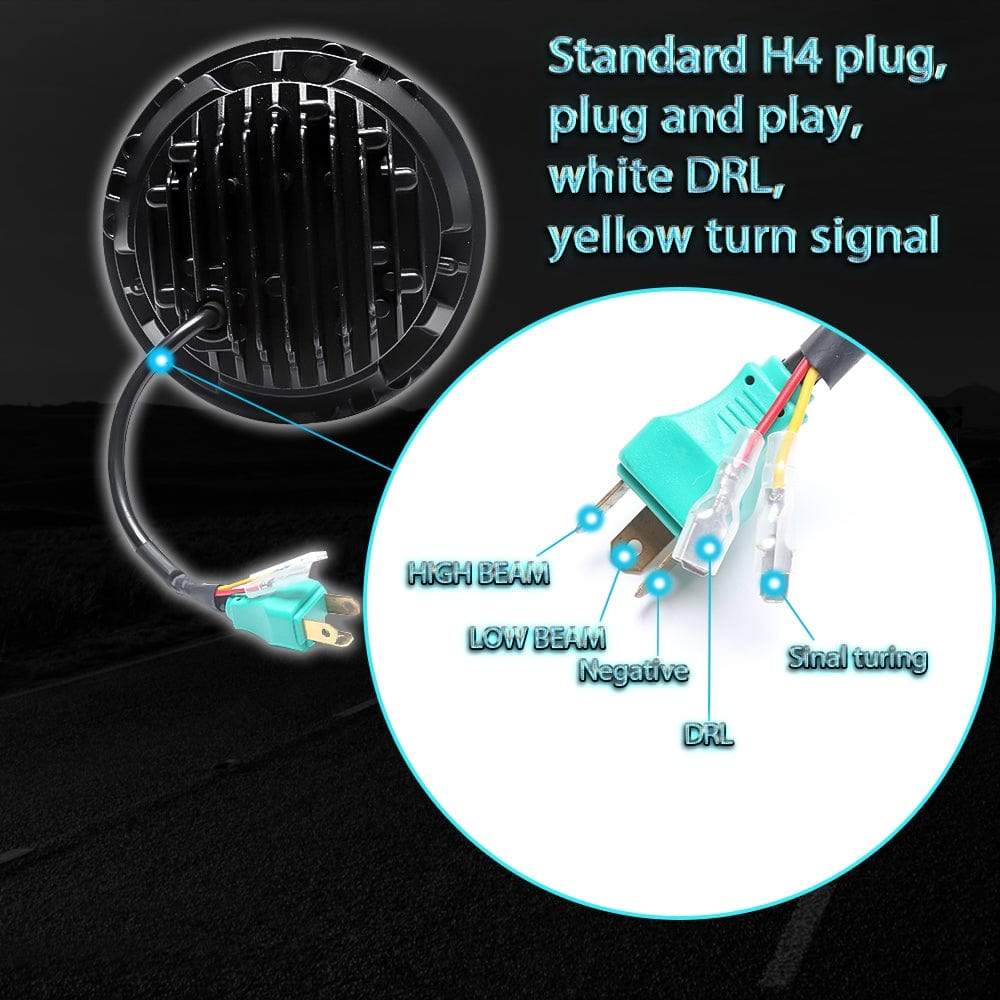 *Breathing Hole
Unique breathing hole.
Easy to operate.
Effectively remove moisture.
If you find fog in the lamp, How to remove the moisture or water inside the lights?
Remove the waterproof valve from back of headlights.
Light on the lamp for 1-3 hours.
Put the valve back until the inside air out.
Please do not forget to well keep the ventilation breather cap and also re-install it after the moisture or water in the headlight disappear.
*DOT Aprroved
DOT, SAE, E9 triple quality and also safety approval.
The 7-inch Headlight is flicker-proof, shock-proof, and also waterproof (IP67).
Over 50000 hrs lifespan, and also capable for long time working.
*Plug and play. Easy to install.
The

7-inch LED

 Headlight

comes with H4 to H13 adapters, no splicing, and also no cutting.
This superior led headlights usually only need about 45 minutes to install.
FITMENT
Jeep Wrangler CJ-7 (1976-1986)
Jeep CJ-8 Scrambler (1981-1985)
Jeep Wrangler TJ (1997-2006)
Jeep Wrangler TJ Unlimited / LJ (2003-2006)
Jeep Wrangler JK 2 Door (2007-2018)
Jeep Wrangler JK 4 Door Unlimited (2007-2018)
Jeep Wrangler JL 2018-2021(Need add bracket).→Click to get Bracket
Lan Rover Defender 90 & 110
AM General Hummer (1992-2001)
Hummer H1&H2 (2003-2009) (H2 needs 9007 male to H4 female adapter, package not included)
NOTICE AND MODIFY NEEDED FOR SOME MODELS
Hummer H2 need a little mod;
2005 LJ (TJ Unlimited) need file the housing;
2006 TJ need light trimming with the Dremel;
2012 JK need modify the plastic headlight holder;
2017 Wrangler need make some modifications to make it fit;
2007 Wrangler need to use H13 (9008) HID Relay (Package not included)
2016 Wrangler 75th Anniversary Edition need modify the bezel for the headlight;
2013 Wrangler the inner part of the headlight hole had to be elongated for the light to fit;
For some models like 2016 JK Wranglers. The high beams are staying on and flickering, unless turn on low beams or put the car in park, they just stay on. Solutions: You need an app(JScan) to disable the DRLs in order for the high beams to not be activated as DRLs.
DO NOT FIT FOR 2013 JK; 2015 Wrangler; 1995 AM general hummer H1; 2003 hummer h2; 1997 TJ; 2015 Sport Wrangler;
TECH SPECS
Housing Color: Black
LED Power: 60W
Qty of LEDs: 6pcs 10W Osram LED
Mounting Bracket: Stainless Steel
Material: Diecast Aluminum Housing
Lens Material: PC
WHAT'S INCLUDE
2pcs 7 inch LED Headlights
2pcs H4 to H13 adapter
First the item arrived fast,
First the item arrived fast, the lights came safely packed also it came with another adapter; it was easy to install. I was surprised about the brightness of the settings the DRL was easy to combine and the turning light mine were install on a Jeep TJ 2005. Definitely will recommend this product.
Perfect!
In perfect condition and nicely packed, the description is accurate to the publication. The shipment was very fast to US, it took 3 days to arrive. I'm very happy.
Really good
Nice bright led headlight with a fairly easy install. The white drl light is a nice touch for safety purposes. In my opinion these look good on motorcycles and newer Jeeps but don't quite look right in older vehicles. These are definitely a brighter safer option though when it comes to older vehicles. Once you drive an older vehicle with led's you will never go back to the old style halogens.
NICE!LOVE IT!
Very good one. Bright headlight. Comes with an H4 plug and an H13 adapter. I don't have a use for this, so I gave it to a friend who has a jeep. He seems to like the brightness of the light.
Perfect fit. Great headlights. They
Perfect fit. Great headlights. They light up the side of the road Great for spotting deer and other animals.Their customer service is absolutely amazing.I would highly recommend these lights and I would definitely buy them again. You will not be disappointed.