Valentine's Day Sales
Description
This Light Bar for Truck 32 inch is a 2-color-flash tri-row led light bar that decorates your vehicle for a great look at night. The 32 inch LED Light Bar for Truck has four types of light, white light, white flashing, yellow light, and yellow flashing. Just turn on/off the switch to get another light mode.
Related Video
About this LED Light Bar for Truck
●Trusted Hyper Bright: Firstly, Equipped with 13pcs*3w/group high intensit Osram LEDS, total 585 watts. Features a trusted ultra-bright, high-intensity and stable light output. Improves driving safety with a clearer, wider, and further visual area. And lifespan extends over 50,000 hours.
●Perfect Spot Flood Combo: Secondly, Combining 30°super spot light in the middle and 160°flood light at two sides. Get you both a high-intensity spot light for further distance and also a bright flood light at broad distance. Clear all darkness forward and at side roads. A perfect Combined Beam Light Bar option for off-roading trails.
●Premium Durability: Thirdly, IP68 waterproof rated, powerful to withstand any harsh environments and weather conditions. Solid built in quality 6063 aviation aluminum housing and thick heat shrink shell, efficiently accelerate heat dissipation and maintain a safe temperature to ensure stable lighting output as well as lighting durability. Promised with 5 years warranty.
●Dual Mounting Solutions: Fourthly, Offer both bottom mount and end mount solution. So you can install the light bar freely on your vehicle and less limits on the mounting position. Also the Mounting angle adjustable.
●Breathing Holes Design: In addition, this Combined Beam Light Bar for Truck design with a ventilation hole and balance the internal and external air pressure to maintain the dry environment within the lamp to extend the use of time.
FEATURES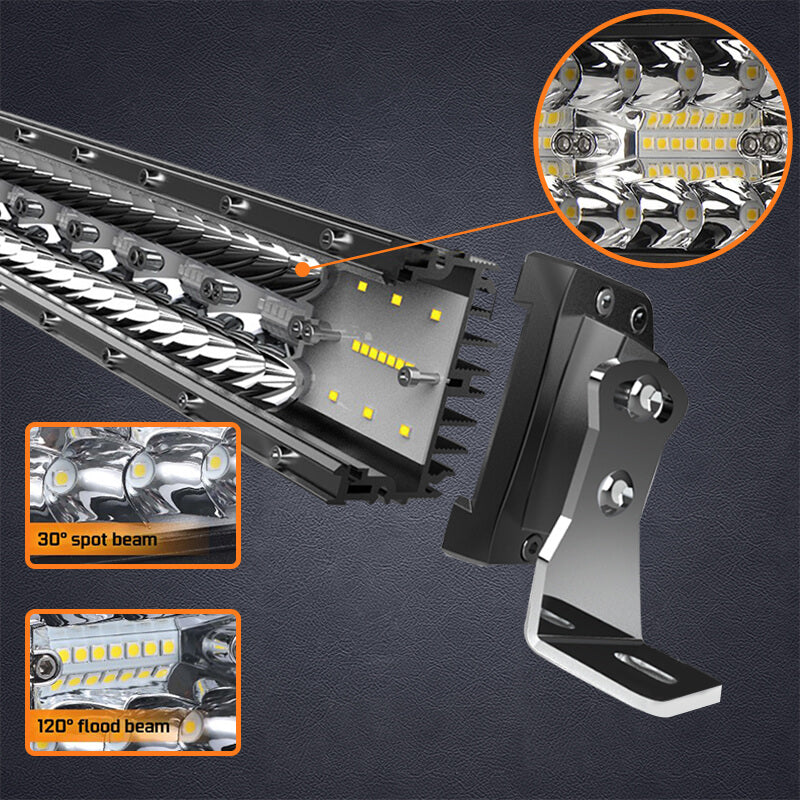 EFFICIENTLY WATERPROOF
On the other hand, the inside are a waterproof rubber pad and silicone sealing strip, outer protective cover firstly protects against water and dust. Waterproof coefficient IP 68.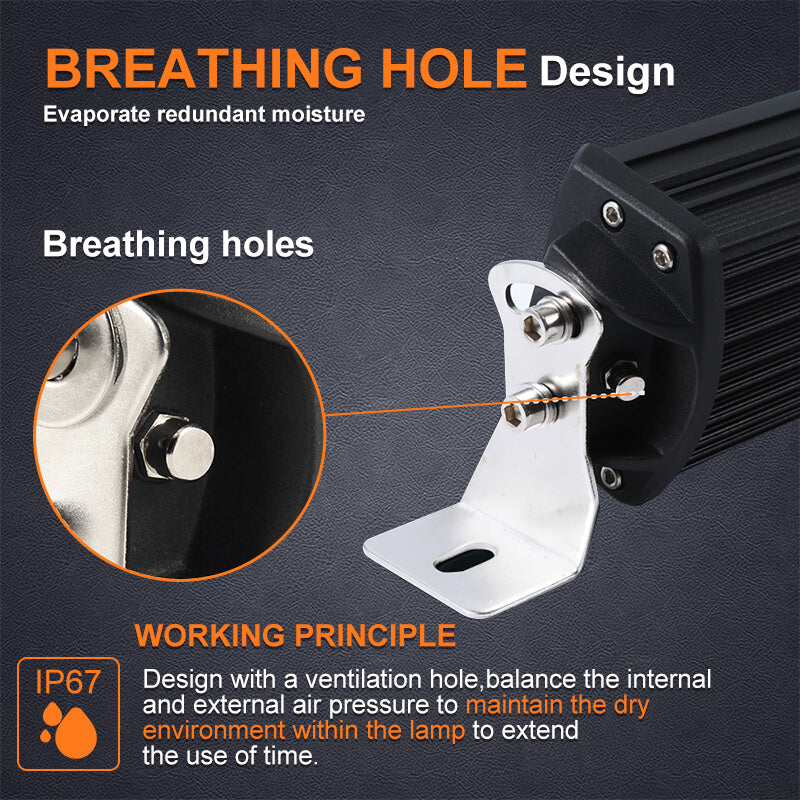 Applications: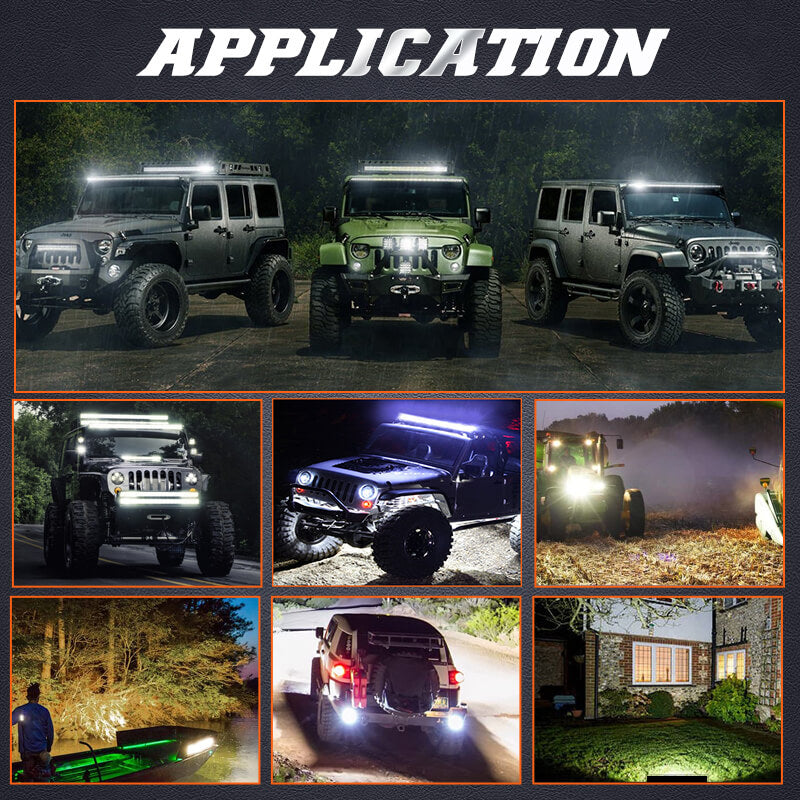 Applied positions: also Bumper Light, fog light, headlight replacement light, windshield light, side light, roof light, back-up/reverse light.
Applied vehicles & equipment: also Jeep, truck, Subaru, ATV, UTV, SUV, motorcycle, dirt bike, golf cart, lawn mower, tractor, snow blower, trailer, forklift, boat, excavator, dozer, harvester, etc.
Applied fields: also Off-roading, firefighting, hunting, fishing/boating, farming/agriculture, construction, mining, gardening, household (Note: For household lighting, so you need to use a voltage transformer/converter to convert the AC 110-120V To DC 12V.)
Specifications:
Size: 32"
Lens material: PC
Body Color: Black
Waterproof rate: IP 68
Lifetime: Over 50,000 hours
Operating Voltage: 12-32V DC
Color Temperature: 4300K/6000K
Material: 6063 Diecast aluminum housing
Mounting Bracket: 306 Stainless steel bracket
Beam pattern: Combo beams=flood beam+spot beam
Four lighting modes: white light, white flashing, yellow light, yellow flashing
PACKAGE INCLUDED:
●1 x Wiring Harness Kit
●12D Combo Beam LED Light Bar 32inch
●Adjustable Sides Brackets, Screws Set
Looking for other sizes? Click here to learn more about the Led Light Bar.
Note:
They are aftermarket parts. NOT D.O.T. approved. So do not use if D.O.T. is required. Before installing this product, please check your state/provincial and local/municipal laws and regulations.
Buy X, Get Y
*Cost $69.99
*Get 1 item for free
*Not to be combined with other discounts
*The quantity of items specified below must be added to the cart
Buy X, Get Y