Valentine's Day Sales
Description
4X6 Sealed Beam LED Headlights with DRL
If you look for a perfect LED Headlights replacement for your Trucks, this 4x6 LED Headlights are your answer which has low output simple halogen sealed beams with more effective, efficient, and also powerful LEDs.
This 4x6 inch High Low Beam LED Headlights with DRL come with 45W High intensity cree LEDs and also made with Rugged Anti-Vibration construction combining double reflectors and clear PC cover. Also, providing superior condensation, High-intensity Light gathering, reduce light attenuation. make driving safer in darkness and inclement weather.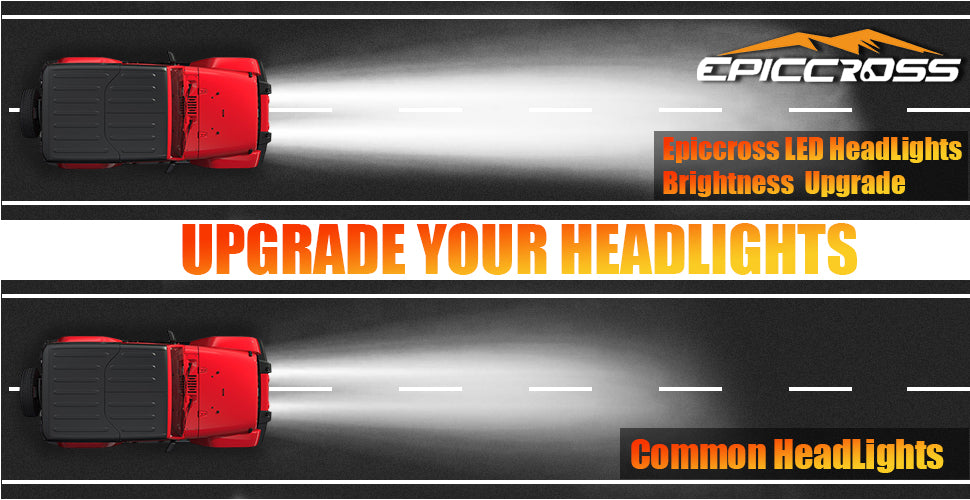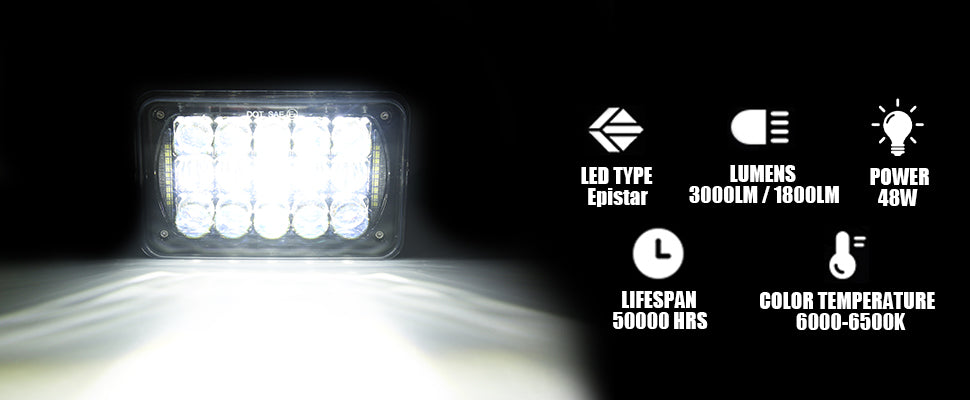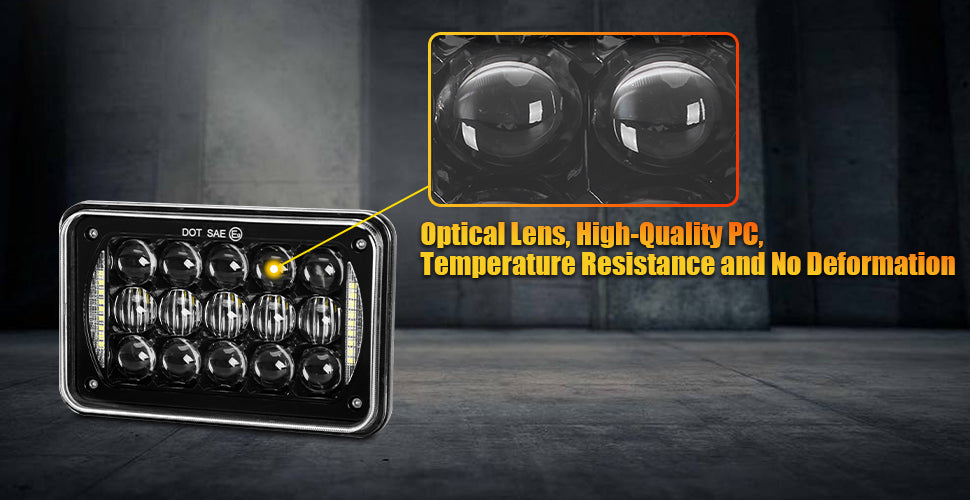 *High Performance 4x6 LED Headlights
The 4x6 Headlight also made of 48W High intensity cree LEDs provide you a bright and safe vision on the road.
5800LM High beam, 3200LM Low beam, also the new generation cree chips.
6000K-6500K white color-temperature, not warm or cold, also keep you calm and safe on the road.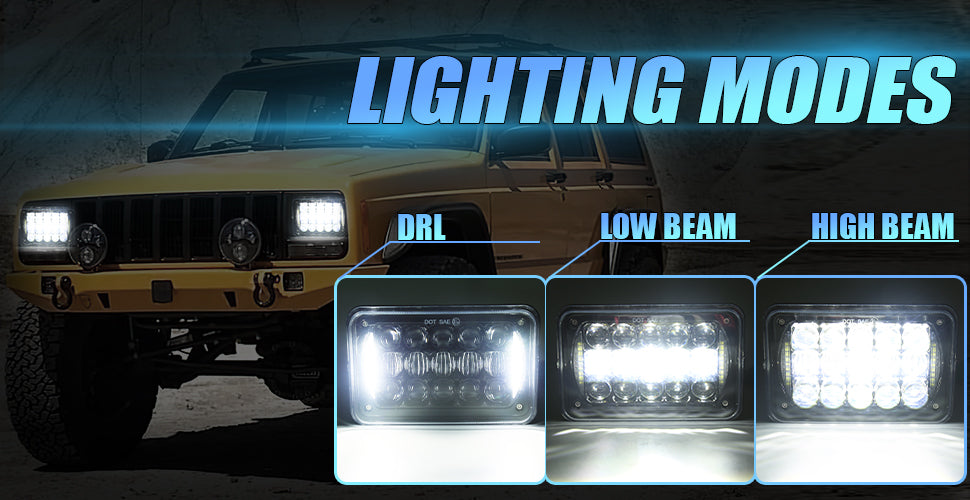 *Light Modes
DRL
Low beam and High beam mode.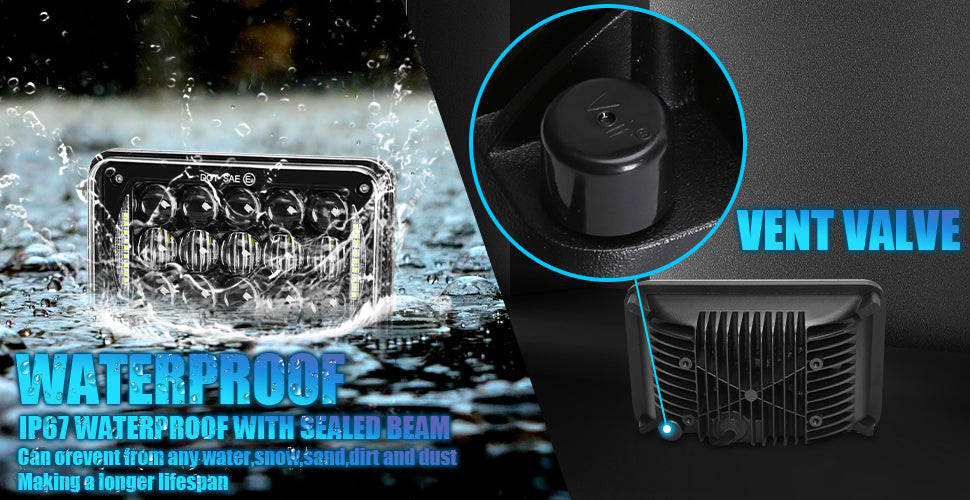 *Breathing Hole
Unique breathing hole
Easy to operate
Effectively remove moisture
If you find fog in the lamp, How to remove the moisture or water inside the lights?
Remove the waterproof valve from back of headlights.
Light on the lamp for 1-2 hours.
Put the valve back until the inside air out.
Please do not forget to well keep the ventilation breather cap and re-install it. after the moisture or water in the headlight disappear.
*Plug and play. Easy to install.
The square headlight also comes with OEM H4 connector, no splicing, no cutting.
This superior led headlights usually only need about 15 minutes to install.
*Why Choose Epiccross 4x6 sealed beam led headlights?
Built-in Canbus, anti-flicker.
Reduction in energy consumption.
With EMC: Anti-electromagnetic interference.
Intensity LED Chip, high brightness and also longer life span.
Also, with rebreather hole at the backside, highly waterproof.
Unique Design, 5D Lens designed to focus the light on driving and also Offers maximum clarity.
Also, with High Low beam and DRL function.
FITMENT
Fit any other car with about 4x6 inch headlight Such as Jeep models, Chevrolet models, GMC models, Ford models including sedans, light SUVs and trucks, motorcycles, off-road vehicles and so on.
Compatible with H4651 H4652 H4656 H4666 H6545 with DRL.
FREIGHTLINER FLD120 112 FLD.
Peterbilt Rectangular Headlights 379 378 357 and so on.
Kenworth T800 T400 T600 W900B W900L Classic 120/132 HK Classic.
TECH SPECS
Housing Color: Black or Chrome
Led Power: 48W
Input voltage: 9-16V
Qty of LEDs: 18pcs 3W Cree chips
Lumens: 5800LM High beam; 3000LM Low beam
Material: Diecast Aluminum Housing
WHAT'S INCLUDE
2 Pcs H4 wiring socket
2 pcs 4x6 LED Headlights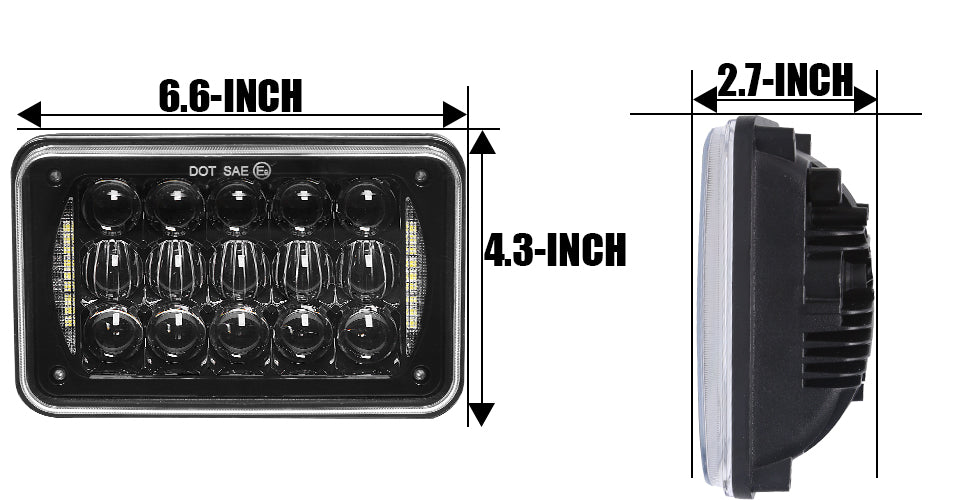 Buy X, Get Y
*Cost $69.99
*Get 1 item for free
*Not to be combined with other discounts
*The quantity of items specified below must be added to the cart
Buy X, Get Y