RGB Jeep LED Headlights 7 Inch 105w
LY-105W-RGB
Regular price
$118.99
Sale price
$108.99
Save $10.00
/
Use Code: JEEP10 Get 10% Off Discount
If you fail to pay with your credit card, try changing to Paypal and Paypal Express Checkout.
RGB Jeep Wrangler Headlights with DRL Amber Turn Signal
Our RGB Jeep LED Headlights have sturdy materials, highly waterproof and anti-scratch. The lights chips are made of German Osram chips.These 7-inch Jeep LED Headlights for Jeep Wrangler have a unique honeycomb structure, which can greatly improve visibility. Make your night travel safer.
Are you worried that the phone's Blue-tooth connection do not match the RGB headlights? Epiccross™ RGB functions does not need to be used on your mobile phone or wireless network, just use the RF remote controller we provided to remotely operate the RGB functions.
*High Performance Lights
●The 7-inch RGB Jeep LED Headlights made of 105W High intensity 21pcs Osram LEDs with DRL, high beam, low beam and 8 Colors Combinations (Red, Orange, Yellow, Green, Cyan, Blue, Purple, White).
●High Beam 5500LM, Low Beam 3600LM, the new generation Osram led chips.
●6000K-6500K white color-temperature, not warm or cold, keep you calm and safe on the road.
*Light Modes
●White DRL
●RGB mode
●Amber turn signal
●Low beam and High beam mode.
*Wide Compatibility
●2007-2014 Wrangler JK, 1997-2006 Wrangler TJ, 1955-1983 Cj-5, 1976-1986Cj-7, 1981-1985 CJ-8.
●Truck, Mercedes Benz G, 4x4 off-road vehicle, etc.
*Breathing Hole
●Unique breathing hole
●Easy to operate
●Effectively remove moisture
If you find fog in the lamp, How to remove the moisture or water inside the lights?
●Remove the waterproof valve from back of headlights
●Light on the lamp for 1-2 hours
●Put the valve back until the inside air out
●Please do not forget to well keep the ventilation breather cap and re-install it after the moisture or water in the headlight disappear
*DOT Aprroved
●DOT, SAE, E9 triple quality and safety approval.
●The 7-inch Headlight is flicker-proof, shock-proof, waterproof (IP67)
●Over 30000 hrs lifespan, capable for long time working.
*Plug and play. Easy to install.
●The square headlight comes with H4 to H13 adapters, no splicing, no cutting.
●This superior LED Headlights usually only need about 20 minutes to install.
*No Blue-tooth Connection
●Are you worried about network connection failure?
●Are you worried that the phone's Blue-tooth connection do not match the RGB Jeep Wrangler Headlights?
●Are you worried that the connection to Blue-tooth on your phone will consume a lot of power?
●Our RGB functions does not need to be used on your mobile phone or wireless network, just use the RF remote controller we provided to remotely operate the RGB functions.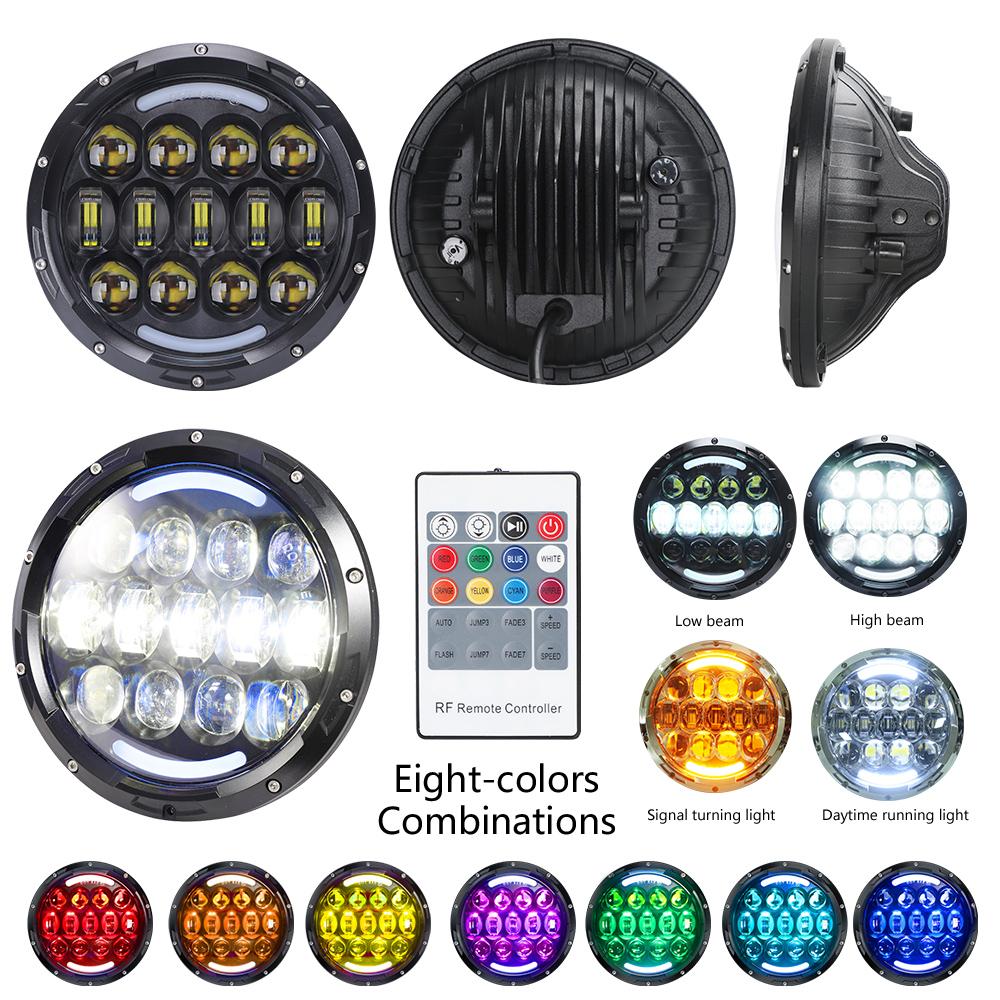 *Manual Remote Controller
●No Blue-tooth and phone connection required and no need to download APP.
●We aggregate all the operations into one remote controller to reduce the probability of failure connection.
● Manual control colors options and functions (Auto, Flash, Jump, Fade, Speed, etc.)
●Can control color, brightness, speed and lighting mode
●This RF remote controller is specially developed by us to allow our customers to connect to our RGB headlights more accurately. There are no network and Blue-tooth barriers, just turn on the controller and play it for allowing you to control RGB headlights more smoothly.
*Why Choose Epiccross Jeep Wrangler Headlights?
●Remote control, no need to download APP
●RGB function, speed, brightness can be controlled
●Plug and play, with white DRL and yellow turning lights
●Use original Germany Osram 5W *21 per pcs led chip, 105W with long time brightness
●With re-breather hole at the back side, can solve the problem of getting water and moisture inside
*For Epiccross's Customer
If you are encountered following situation:
●Do not fit for your vehicle.
●Get foggy or light beam go out.
●Defective lights or broken lights.
●Missing some accessories or parts.
●Causes fault code, trouble code, flicker or hyper flash.
JUST FIND ORDERS DETAILS AND REACH OUT TO SELLER
*Shop With Confidence
●Not fit for your vehicle. Please return it back to us.
●Cause fault code, flicker, moisture inside the light. Please contact us for solution.
●Defective or light bulbs go out. We will send you new replacement.
●Any problem with Epiccross lights, just feel free to contact us!
●12 months warranty
FITMENT
●2007-2014 Jeep Wrangler JK
●1997-2006 Jeep Wrangler TJ
●2007-2016 Jeep Wrangler JK 2 Door
●2007-2016 Jeep Wrangler Unlimited JK 4 Door
●2004-2006 Jeep Wrangler LJ Unlimited
●1955-1983 Jeep Cj-5
●1976-1986 Jeep Cj-7
●1981-1985 Jeep CJ-8
●4x4 off-road vehicle.etc.
NOTICE
You can ask us for advice If you do not know whether our 7-inch RGB Headlight is suitable for your bike.
TECH SPECS
●Housing Color: Black
●LED Power: 105W
●Input voltage: DC 9V~16V
●IP Rating: IP67
●Qty of LEDs: 21pcs*5w Osram led with DRL
●Lumens: High Beam 5500LM, Low Beam 3000LM
●Mounting Bracket: Stainless Steel
●Material: Diecast Aluminum Housing
●Lens Material: PC
●Lifespan: > 50,000 hours
●Lamp Cup Material: PMMA+PC
●Color Temp: 6000K-6500K/White
●Warranty: 12 months
●Operating Temperature: -40-85 Degree Celsius
●Certification: CE ROHS IP67 DOT E-MARK
WHAT'S INCLUDE
●2x 7 inch RGB Jeep LED Headlights
●2x H4 to H13 adapters
●1x RGB wire harness
●1x RF remote controller
REFUND & EXCHANGE POLICY

 RETURNING & REPLACEMENT & REFUND

At Epicbeamled.com, customer satisfaction is always our top priority.

Our dedicated quality control and quality inspection team will inspect your items before shipment. The quality of our products is guaranteed. However, you do need to check the size carefully and accurately before buying. Please refer to the size chart on the product page.

On Epicbeamled.com, returns are as easy as 1-2-3! What can you lose! If you are not satisfied 100%, we will refund you. Therefore, we have covered it for you! Please contact us within 30 days of receiving the item to initiate the return process.

Returnable items
Items that can be returned/refunded or exchanged within 30 days of receipt must comply with the following standards:

1. Faulty items damaged/damaged or soiled upon arrival.
2. The received product size/color is incorrect.
3. Unwashed, unused and unused items that have not reached your expectations within 30 days after receipt.
If you encounter any of the above situations, please contact our support center as soon as possible.

If for any reason you decide that you no longer need the item. You can report it to us within 30 days of receiving it for a partial refund of the merchandise cost.

Non-returnable items
We will not accept returns in the following cases:

1. Items outside the 30-day warranty period.
2. Items that are washed, worn, used or misused.
3. Items that are damaged in the packaging.

Return process
1. Email us

-Contact us and explain the item you want to return and the reason for the return. Attach photos to resolve quality issues.

2. Make suggestions

-Professional advice will be provided. Our service team will provide you with detailed instructions.

3. Return

-Return the item to its original packaging and send it out through the local post office.

4. Refund or exchange

-After receiving your package, we will immediately process a refund or exchange according to the return conditions.

Return conditions
1. Please contact us within 30 days from the date of receipt of the order.

2. The returned items must remain unused in the original packaging. We do not accept returned items that are worn, damaged, cleaned or altered in any way.

3. We do not accept returned items sent directly back without evaluation or signal by the returning personnel. Please be sure to check the return with our staff first.

4. After receiving the returned goods, your money will be returned to you. Epiccross cannot refund, repay, underwrite or otherwise be responsible for any expenses not paid to Epicbeamled.com. This includes any customs duties or value-added tax, and any return shipping costs that you may incur during the refund process. The refund will be returned to the original payment method used for the purchase order. Once the refund is issued, you will receive a confirmation email.

5. For packages returned to us, we do not provide freight forwarding collection (FTC) services. Shipping costs for returned packages are non-refundable.

Return shipping fee and address
1. Please be sure to contact our after-sales customer service to get the specific address of the return!

2. All transportation costs are borne by the customer. This includes shipping costs for returns or exchanges. Shipping costs are non-refundable.

3. Please contact your local post office to confirm the actual return shipping cost. We recommend that you use the cheapest airmail registration method available

 
Processing Time:

We usually need 1-2 working days to prepare your orders, once we shipped, we will send you an e-mail.

About pre-sale products

All products marked with "pre-sale" are factory pre-sale products and are in production. It usually takes 30 working days to ship. Please estimate the time before ordering to avoid delay.

 Due to the weather and COVID-19,the shipping is longer than usual ,thanks for your understanding. 

SHIPPING TIME:

 America  (Excluding remote areas) 3-5 Working Days

Other Countries (Excluding remote areas) 3-5 Working Days

Some countries need to pay customs for customs clearance(the import duty amount), this is not included in the freight.                                      

Note:

The specific fee and transportation time depend on the distance of the area

If you have any further questions, please contact our services: sales@epicbeamled.com

Call us:

Our office hour: GMT+8:00 Mon. - Fri.  8:00a.m - 18:00p.m
Cool color options and bright headlights!
Very good selection of headlights. I bought these because they look similar to the ones on my original Jeep without the color changing option. If you don't already have an anti-flicker adapter (I highly recommend you get a set). The color changing part of the light is not very bright, but you can still see it in direct sunlight. The modes are very neat, with flash and strobe, and fade. (It would be cool if they only rolled out the gradient or strobe on one color, instead of cycling through all the color options). If you're tired of boring halos, this is a great option. There are also white running lights and amber turn signals that are definitely a head turner.
Super bright
I really can't stand the original jK lamp, the brightness is low and it doesn't look good. Very satisfied after changing into this light! Driving at night is more at ease!
so bright, so awesome
This is amazing. It's too bright. I really like this surprising feeling. The moment I turn on the car lights, my backyard was completely illuminated, even my son Run out and marvel
Love these lights!
The broken headlights are removed, they are easy to install, and are much brighter than ordinary lights. They greatly improve the visibility on the road. High-quality products, we are very happy!
Good brightness
When I first took out the headlight from the box, I saw a lot of Reflector cup inside, and I thought it must be very bright. Unexpectedly, the brightness is beyond my imagination. The moment I turned on the light, I regretted not wearing my sunglasses, but I like this light so much