Valentine's Day Sales
Description
Custom 5x7 Headlights with Amber Turn Signal
Epiccross's 7x6 LED Headlights (also known as 5x7). While maintaining the original classic appearance, this 7x6 5x7 inch Headlight has been greatly improved in function. We also added the turn signal function.
This Custom 7x6 Headlights is shockproof and also waterproof. The black durable aluminum shell allows you not to worry about damaging the headlights. At the same time, the 2.0-factor aluminum drive circuit board has very good heat dissipation performance.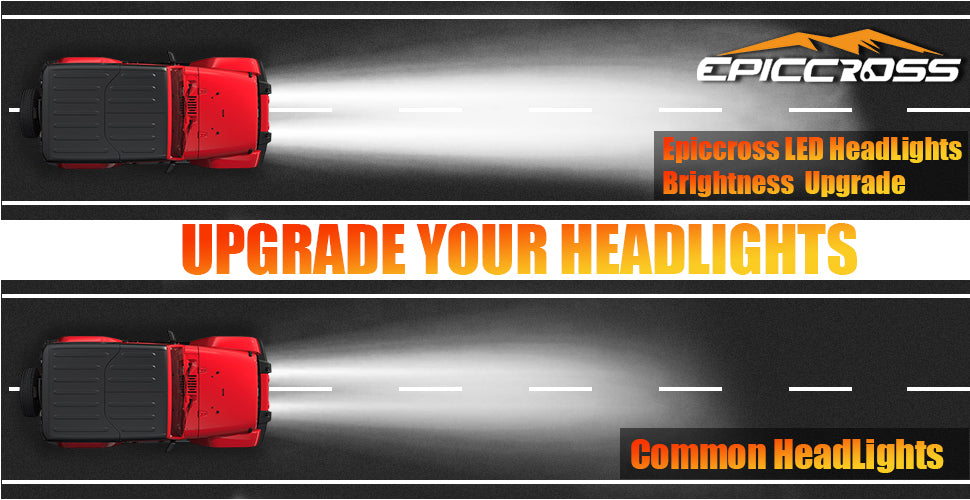 *High Performance Lights
The DOT Approved 7x6 LED Headlights made of 110W Cree led chips provide you a bright and also safe vision on the road.
6000LM for high beam, 4000LM for low beam, DRL mode brighter than similar 7x6 5x7 inch Headlight.
6000K white color-temperature, not warm or cold, keep you calm and also safe on the road.
*Light Modes
DRL
Turn Signal
Low beam and High beam mode.
*Breathing Hole
Unique breathing hole
Easy to operate
Effectively remove moisture
If you find fog in the lamp, how to remove the moisture or water inside the lights?
Remove the waterproof valve from back of headlights
Light on the lamp for 1 - 2 hours
Put the valve back until the inside air out
Please do not forget to well keep the ventilation breather cap and re-install it after the moisture or water in the headlight disappear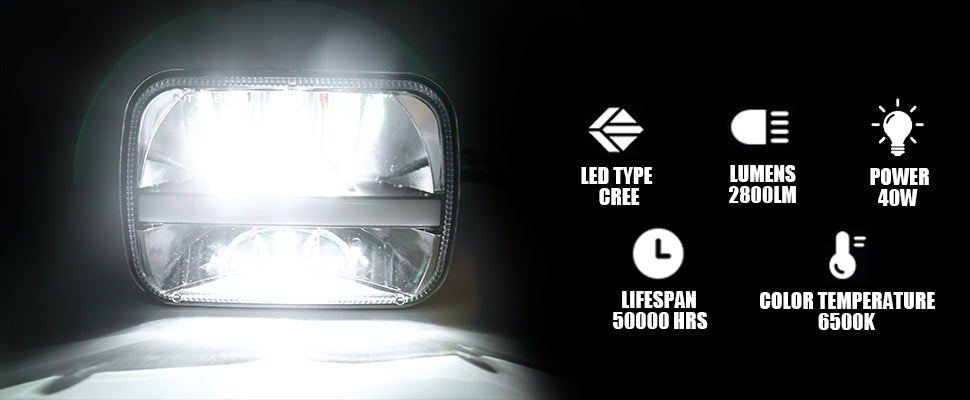 *DOT Aprroved
The 5x7 7x6 inch Headlight is flicker-proof, shock-proof, and also waterproof (IP67)
Over 50000 hrs lifespan, capable for long time working.
*Plug and play. Easy to install.
The square headlight comes with OEM H4 connector, no splicing, no cutting.
This superior led headlights usually only need about 40 minutes to install.
*Why Choose Epiccross 7x6 5x7 LED Headlights?
Built-in Canbus, and also nti-flicker.
Reduction in energy consumption.
With EMC: Anti-electromagnetic interference.
Intensity LED Chip, high brightness and longer life span.
With rebreather hole at the backside, and also highly waterproof.
Unique Design, exterior design is like a gemstone and diamond.
Standard H4 plug, easy plug & play. With High Low beam function and also DRL light.
FITMENT
COMPATIBLE WITH HEADLIGHTS: H6054 / H5054 / H6054LL / 69822 / 6052 / 6053 Sealed Beam Headligh.
Compatible with any car or truck has about 5x7 or 7x6 inch headlights
JEEP MODELS:
Fits 1987 to 1995 YJ Wrangler
Fits 1984 to 2001 XJ Cherokee
Fits 1986 to 1992 MJ Comanche
TECH SPECS
Housing Color: Black
Led Power: 110W
Input voltage: 9V-32V DC
Lumens: 6000LM high beam, 4000LM low beam
Material: Diecast Aluminum Housing
Lens Material: PC
Lifespan: > 50,000 hours
Color Temp: 6000K-6500K/White
Plug Type: Standard H4 plug
WHAT'S INCLUDE
2pcs H4 adapters
2 pcs 7x6 5x7 LED Headlights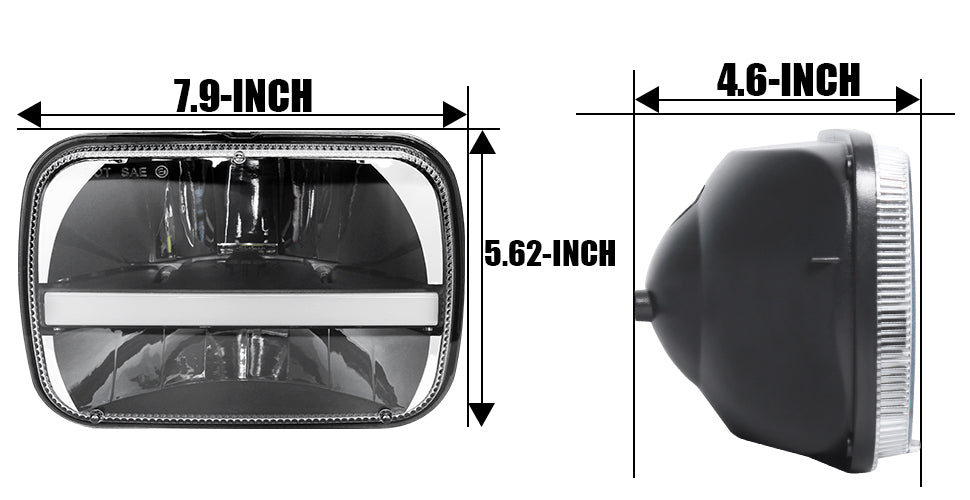 Buy X, Get Y
*Cost $69.99
*Get 1 item for free
*Not to be combined with other discounts
*The quantity of items specified below must be added to the cart
Buy X, Get Y