Description
7x6 Projector Headlights High Low Beam
Epiccross™ new design 7x6 Halo Headlights High Low beam DOT Approved EMC built-in, provide a high performance to give you a brighter and also more safety vision.
Compared with the past, this 7x6 Halo Headlights uses ultra-high-power LED chips, and at the same time uses advanced PC materials, which are resistant to temperature and deformation, reduce light loss, and increase the light intensity of car lights. 6000K white color temperature nearly the daytime light contributes your pleasing driving experience at night. Bright enough but no blind other's eyes.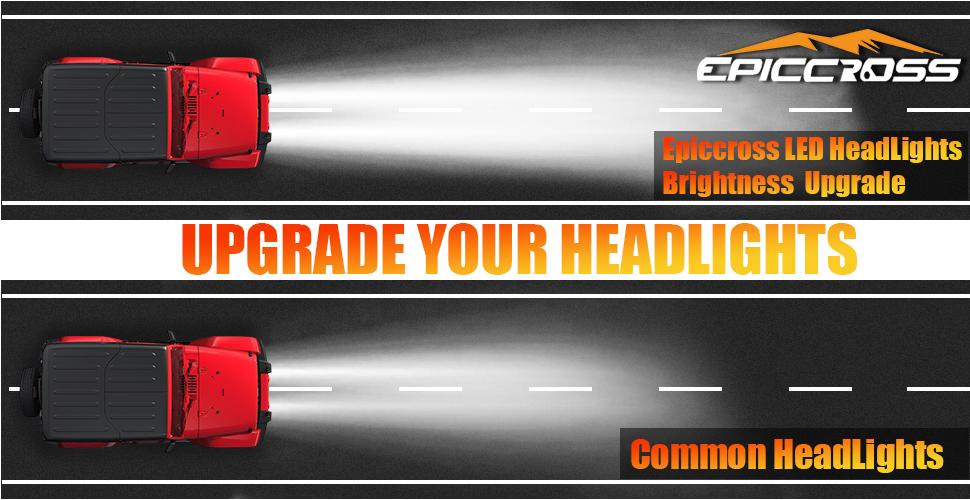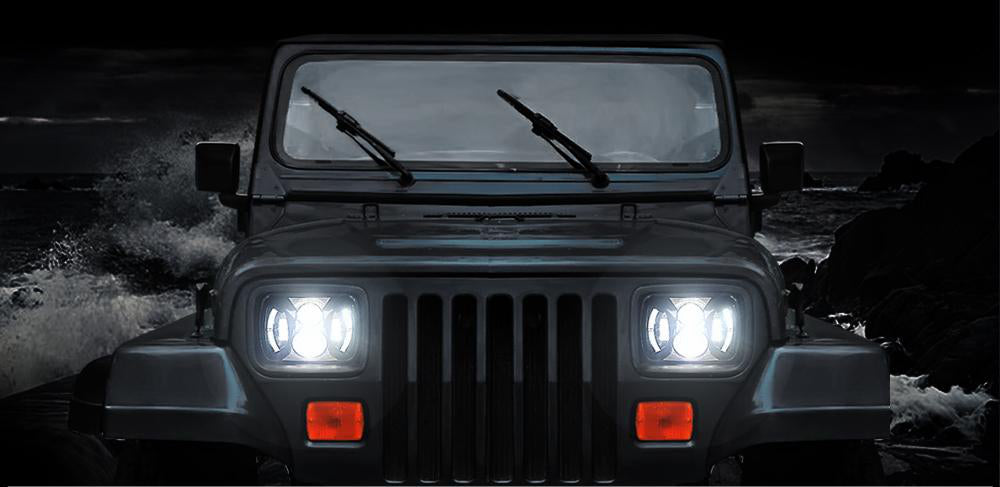 *High Performance Lights
The 7x6 Halo Headlights made of 85W Cree led chips provide you a bright and also safe vision on the road.
3000LM low beam, 6000Lm high beam, DRL mode brighter than similar 7x6 Halo Headlights.
6000K white color-temperature, not warm or cold, keep you calm and also safe on the road.
*Light Modes
DRL
Low beam and High beam mode.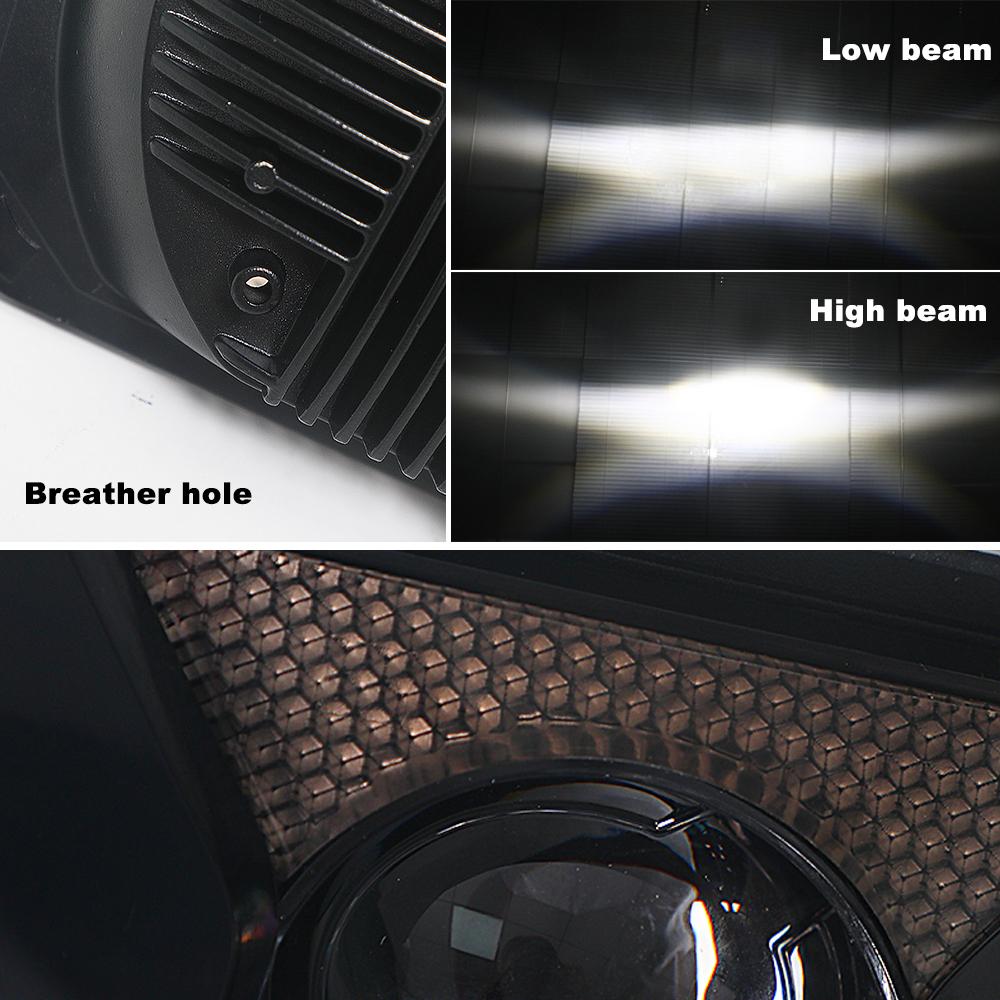 *Breathing Hole
Unique breathing hole

Easy to operate

Effectively remove moisture
If you find fog in the lamp, how to remove the moisture or water inside the lights?
Remove the waterproof valve from back of headlights

Light on the lamp for 1-2 hours

Put the valve back until the inside air out

Please do not forget to well keep the ventilation breather cap and also re-install it after the moisture or water in the headlight disappear
*Wide Compatibility
Replacement for H4656 H4651 4651 H4652 H6545 H6054 H6054LL.
Compatible with any car or truck has about 5x7 or 7x6 inch headlights such as Jeep Wrangler YJ, Cherokee XJ, MJ Comanche, Chevrolet K1500 K3500 C70 C4500 P40 P60 W3500 W4500 W5500 and so on.
If you don't know your model fit for the headlight or not, you can reach to us.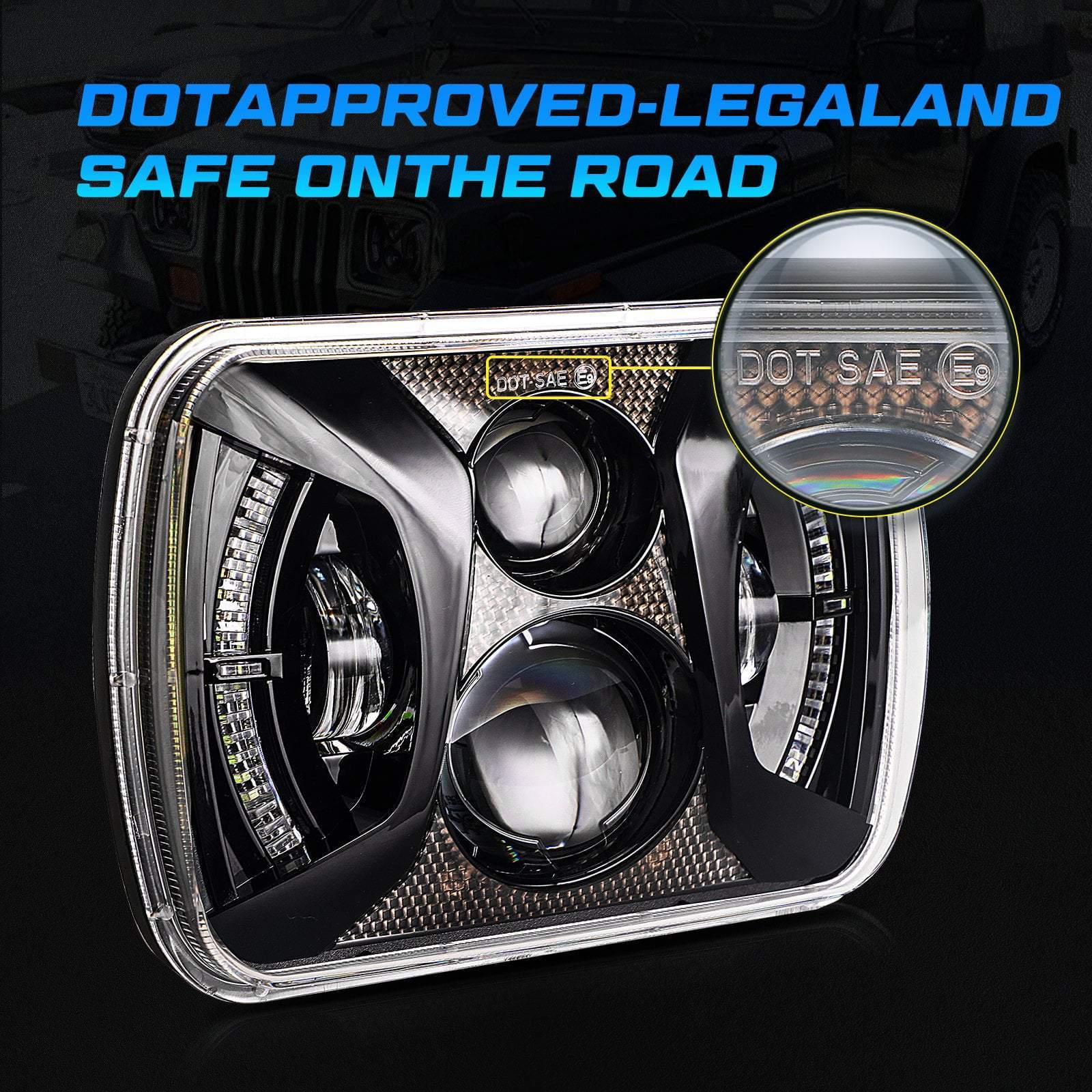 *DOT Aprroved
The 7x6 Projector Headlights is flicker-proof, shock-proof, and also waterproof (IP67)
Over 50000 hrs lifespan, and also capable for long time working.
*Plug and play. Easy to install.
Plug and play, no need for decoders or complex modification
This superior led headlights usually only need about 20 minutes to install.
*Why Choose Epiccross 7x6 Projector Headlights?
Built-in Canbus, and also anti-flicker.
Reduction in energy consumption.
With EMC: Anti-electromagnetic interference.
Intensity LED Chip, high brightness and also longer life span.
With rebreather hole at the backside, and also highly waterproof.
Unique Design, exterior design is like a gemstone and diamond.
Standard H4 plug, easy plug & play. With High Low beam function and also DRL light.
FITMENT
COMPATIBLE WITH HEADLIGHTS: H4656 / H4651 / 4651 / 4652 / H4652 / H4666 / H6545 / H6054 / H6054LL / 6054 / H5054 / H6014 / H6052 / 6052 / 6053 / 69822
Compatible with any car or truck has about 5x7 7x6 Halo Headlights
JEEP MODELS:
1986-1995 JEEP WRANGLER YJ
1984-2001 JEEP CHEROKEE XJ
1986-1992 JEEP COMANCHE MJ
GMC MODELS:
GMC SAVANA 3500 (1998 - 2002, 2004, 2007, 2009-2012)
GMC SAVANA 2500 (1998 - 2001, 2004, 2006, 2008, 2010-2012)
GMC SAVANA 1500 (1998 - 2001, 2003, 2005, 2007, 2009-2012)
GMC SAFARI (1998 - 2002, 2004, 2005)
GMC K3500 (1997 - 2000)
GMC K2500 SUBURBAN (1997 - 1999)
GMC K2500 (1997 - 2000 )
GMC K1500 SUBURBAN (1997 - 1999)
GMC K1500 (1997 - 1999)
GMC C2500 SUBURBAN ( 1997 - 1999)
GMC C2500 (1997 - 2000)
TECH SPECS
Housing Color: Black
LED Power: 85W
Input voltage: 9V-32V DC
QTY of LEDs: 3PCS*15W+1PCS*30W Cree LED/lamp
Lumens: 5500LM high beam, 3000LM low beam
Material: Diecast Aluminum Housing
Lens Material: PC
Color Temp: 6000K-6500K/White
Plug Type: Standard H4 plug
WHAT'S INCLUDE
2pcs H4 adapters
2 pcs 7x6 Projector Headlights
Buy X, Get Y
*Cost $69.99
*Get 1 item for free
*Not to be combined with other discounts
*The quantity of items specified below must be added to the cart
Buy X, Get Y
So far, 3 weeks of great lighting and night driving is 100% better than it was.
Very easy to install, great brightness, good value for money.
Looks great on my 1988 Jeep.