Description
RGB Car Underglow Light Colorize Your Driving Time
● Higher Luminosity & DIY Music Sync: RGB Car Underglow Light has High Intensity SMD 5050 LED Chips. 3 In 1 RGB Chips, Brighter Output ,Uniform Lighting. Enhances the Look and Feel of your Vehicle with Brilliant Lighting Effects.With a mic on phone, you can sync your music to your car lights with ease.
● 3 Ways to Control: With efficient bluetooth connect your APP both Android and Iphone,you can customize Car Exterior Neon Accent Light effects and access 16 million RGB colors or you can just select your ideal colour with your finger by wireless remote,the control box
● IP 68 Waterproof & Strong adhesive: Whole light kit Waterproof, and the 5050 LED Strips are protected by the Flexible Rubber Tubing.The controller and all connectors are also made of waterproof material. In order to protected from Road Conditions and Debris and Rain day.
● Easy installation & Universal Compatibility: You can power the strip lights by the 12V by Positive/Negative wiring.The 12V voltage means it can be used by almost all of the car. Perfect for Cars, SUV, Jeep, Vans, Trucks, Boats decoration. And as a decorative light, it can also used to decorate your house, garden, party or anywhere you want.
● Reliable Service: With over 10 years experience on LED car lights manufacturing, Epiccross provides Satisfying after-sales service. Please do not hesitate to contact us if you have any question
● Size: 60*90 (2*60cm + 2*90cm RGB lights strips); 90*120 (2*90cm + 1*120cm RGB Lights Strips).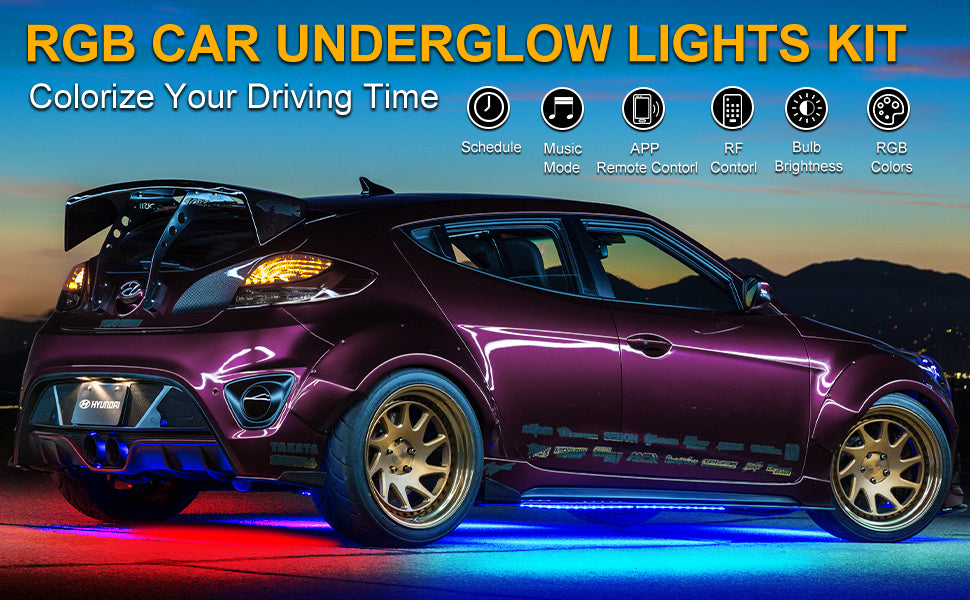 FEATURES
●Adjustable Brightness, Easy ON/OFF Button
●8 Preset Static Colors; 4 lighting effects: 2 jump and 2 fading patterns
●The Sound Active Modes, and LEDs light up according to sound.
●New Re-Designed Wireless Remote Control; Remote Range: Over 100ft
●Control with your device via Bluetooth App
SPECS
●LED Chip: 5050 SMD; 250 Total LEDs
●Power / per LED: 0.3W
●3 in 1 RGB LED Chips
●Material: Flexible Rubber Tubing
●Waterproof Rate: IP67
●Operating Voltage: 12V DC
Car Exterior Neon Accent Light APPLICATION
●All automobiles and devices equipped with a 12V power source.
●It also can be used in a variety of interior and exterior applications
●Including under-car, RV/van cargo truck pickup beds, footwells, rock lights, etc.
PACKAGE INCLUDES
●1 x RGB Car Underglow Lights Kit
●1 x remote control
●1 x control box/sensor with control
Buy X, Get Y
*Cost $69.99
*Get 1 item for free
*Not to be combined with other discounts
*The quantity of items specified below must be added to the cart
Buy X, Get Y
Bright and very good quality.
Quality LED chip lights are not light bulbs. They are very bright and are not difficult to install, except for running wiring, so they will not be damaged. It is not possible to separate the control box from the wiring harness. There is no room to go through my firewall. Goes straight down through the engine bay from the battery box in the engine bay. Needs to be extended to reach the rear LED
Fantastic LED kit
This is an unbeatable kit for under $22.99. The lights are plenty bright. Colors are good and reasonably distinct. Very easy to install, though this will of course vary from vehicle to vehicle. Adhesion of the sticky tape backing wasn't good for me, but I think this was the fault of the surface, rather than the product. The included screw down brackets took care of this, though. Have been through an automated car wash with underbody blast, and had no problems at all!
Good lights!
I bought this kit for my son.The lights looked great. My son is thrilled! We would definitely buy these again!
Good Price and Good Quality
I bought 2 of these, 1 for me and 1 for a friend. Both of them are treating us well. These are very bright and they don't feel or look cheap at all especially for the price! They hold up well for underbody washes in the car wash. It took a while to wire it up completely because all I used was a few zip ties where I could and mostly glue under my car. My small 4 door Camry was long enough to require a few feet of splicing for the rear LED bar, so I urge everyone reading this to get the 6 ft extension to be safe! I've never ran into any problems with these whatsoever, but I live in a small agricultural town so lots of mud cakes itself on the underside of the vehicle. I've just been wiping all 4 bars with a wet rag and the dirt comes right off. Hopefully they don't get damaged from all the debris, if they do I will report back! The remote is very nice. You can change the brightness or speed if you're on a mode. These things are great and the bars stick well to a smooth surface. 10/10 would recommend!!