Epiccross™ 50 inch Dual Row LED Light Bar for Truck
EP-CL50980w
Regular price
$305.00
Sale price
$285.00
Save $20.00
/
Use Code: JEEP10 Get 10% Off Discount
If you fail to pay with your credit card, try changing to Paypal and Paypal Express Checkout.
Still looking for a perfect light and high-performance Combo Beam LED Light Bar at the best price for your trail? Epiccross™ 50Inch12D Reflector dual row Led Light Bar is your top pick for off-roading. 
Related Video
About this item
●Trusted Hyper Bright: A class high quality LED chips, total 980 watts, with lighting performance 10000LM/PC. Features a trusted ultra-bright, high-intensity, stable light output. Improves driving safety with a clearer, wider, and further visual area. And lifespan extends over 50,000 hours.
●Perfect Spot Flood Combo: LED Light Bar for Truck Combining 30°super spot light in the middle and 160°flood light at two sides. Get you both a high-intensity spot light for further distance and also a bright flood light at broad distance. Clear all darkness forward and at side roads. A perfect lighting option for off-roading trails.
●Premium Durability: IP68 waterproof rated, powerful to withstand any harsh environments and weather conditions. Solid built in quality 6063 aviation aluminum housing and thick heat shrink shell, efficiently accelerate heat dissipation and maintain a safe temperature to ensure stable lighting output as well as lighting durability. Promised with 2 years warranty.
●Dual Mounting Solutions: Offer both bottom mount and end mount solution, you can install the light bar freely on your vehicle, less limits on the mounting position. Mounting angle adjustable.
●EMI/RFI Protection: Light pods are built-in EMC that meets EN55015 CE standards, limiting the generation of EMI/RFI interference. Provides better protection for both internal electronic components in lighting and also external objects like a radio receiver.
Features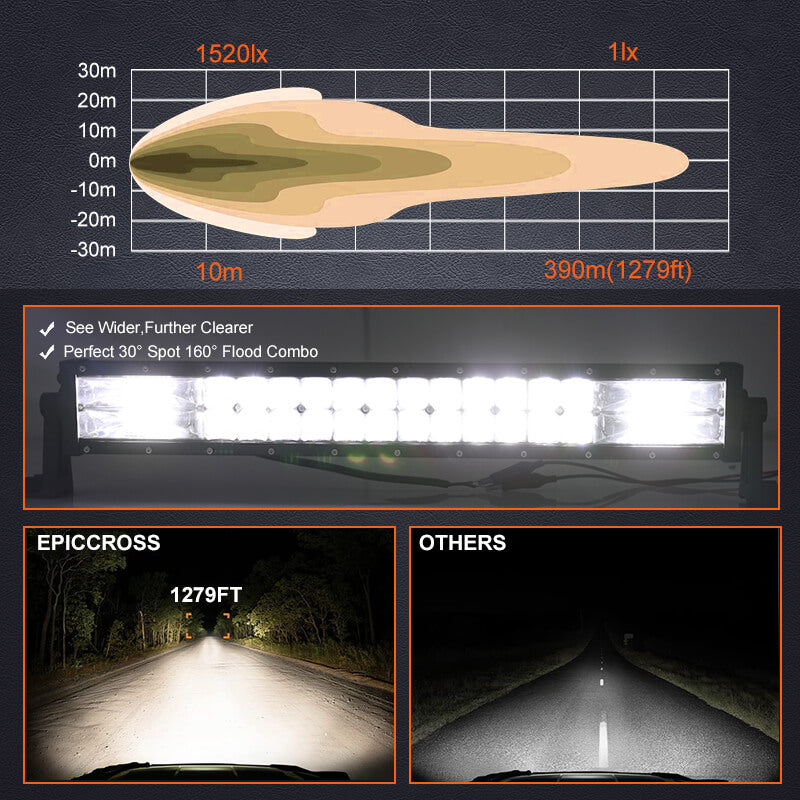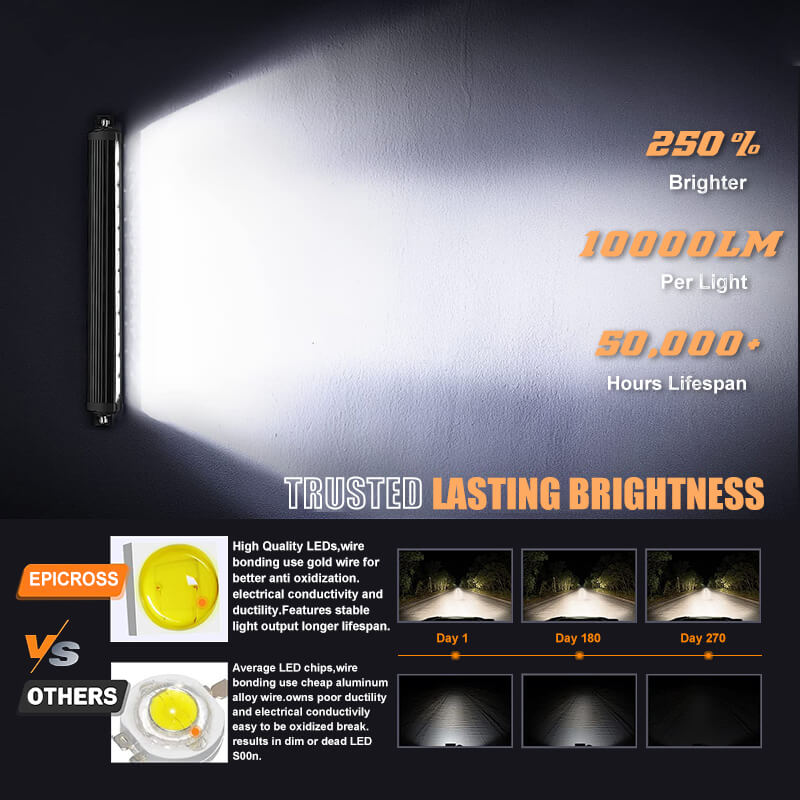 Heat Dissipation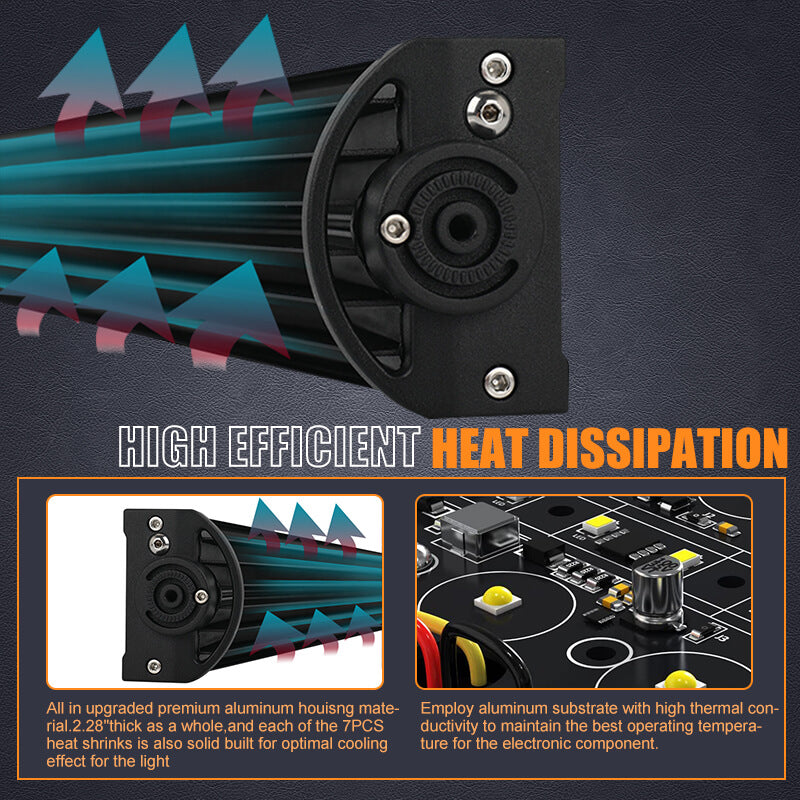 Upgrade Wiring Harness Kit
Customized upgrade wiring harness kit for White strobe light. This is a heavy-duty wiring harness with a standard wire gauge of 16 AWG, customized for Epiccross™ strobe light. With switches, high-quality relay, and fuse box, with 3 leads.
Efficiently Waterproof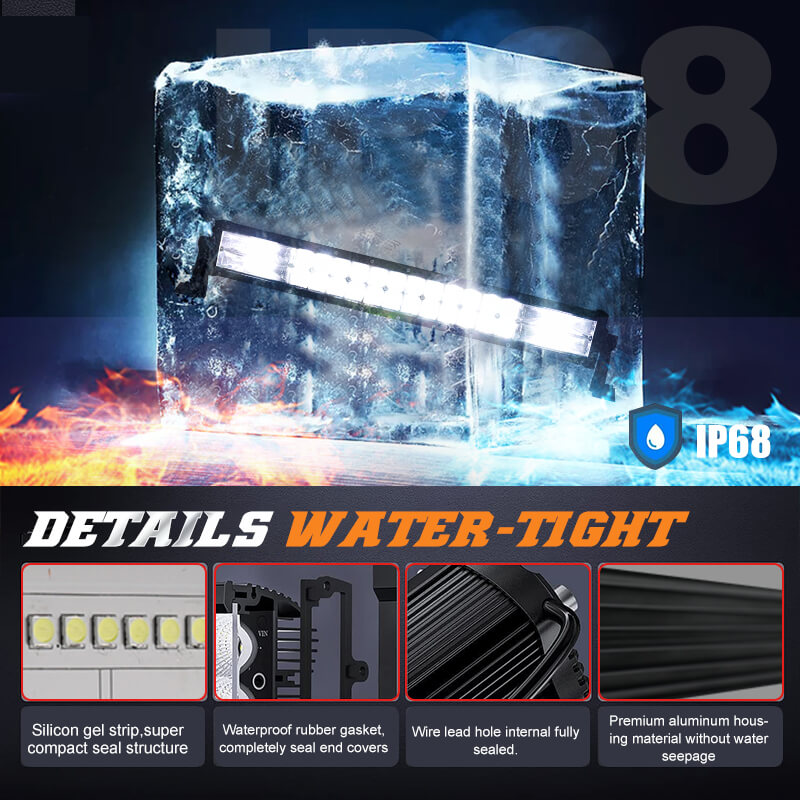 The inside are a waterproof rubber pad and silicone sealing strip, outer protective cover firstly protects against water and dust. Waterproof coefficient IP 68.
Applications: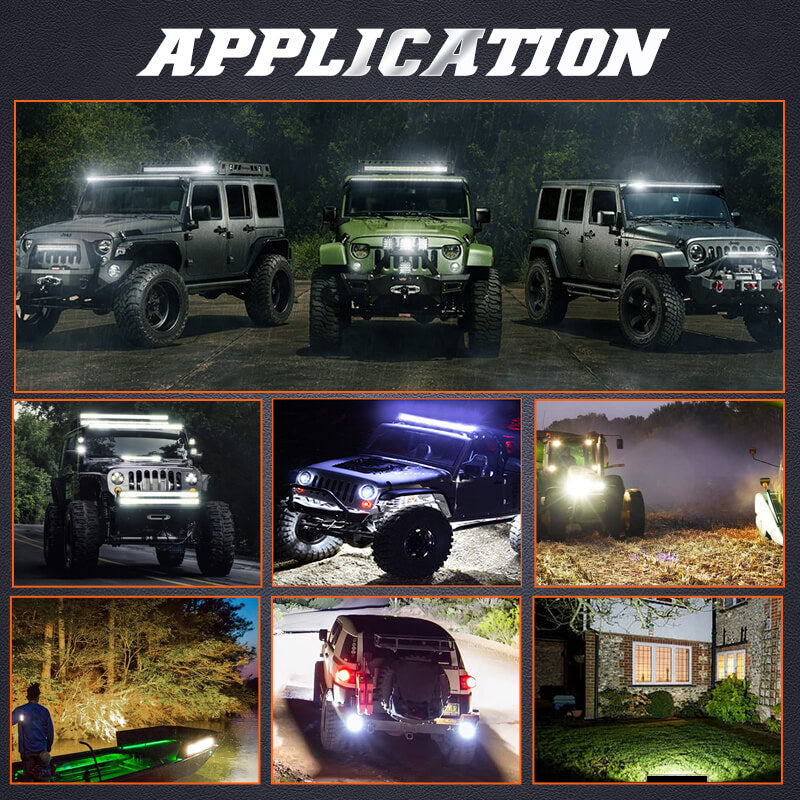 Applied positions: Bumper Light, fog light, headlight replacement light, windshield light, side light, roof light, back-up/reverse light.
Applied vehicles & equipment: Jeep, truck, Subaru, ATV, UTV, SUV, motorcycle, dirt bike, golf cart, lawn mower, tractor, snow blower, trailer, forklift, boat, excavator, dozer, harvester, etc.
Applied fields: Off-roading, firefighting, hunting, fishing/boating, farming/agriculture, construction, mining, gardening, household (Note: For household lighting, you need to use a voltage transformer/converter to convert the AC 110-120V To DC 12V.)
Package Included:
●1 x Wiring Harness Kit
●980W LED Light Bar for Truck
●Adjustable Sides Brackets, Screws Set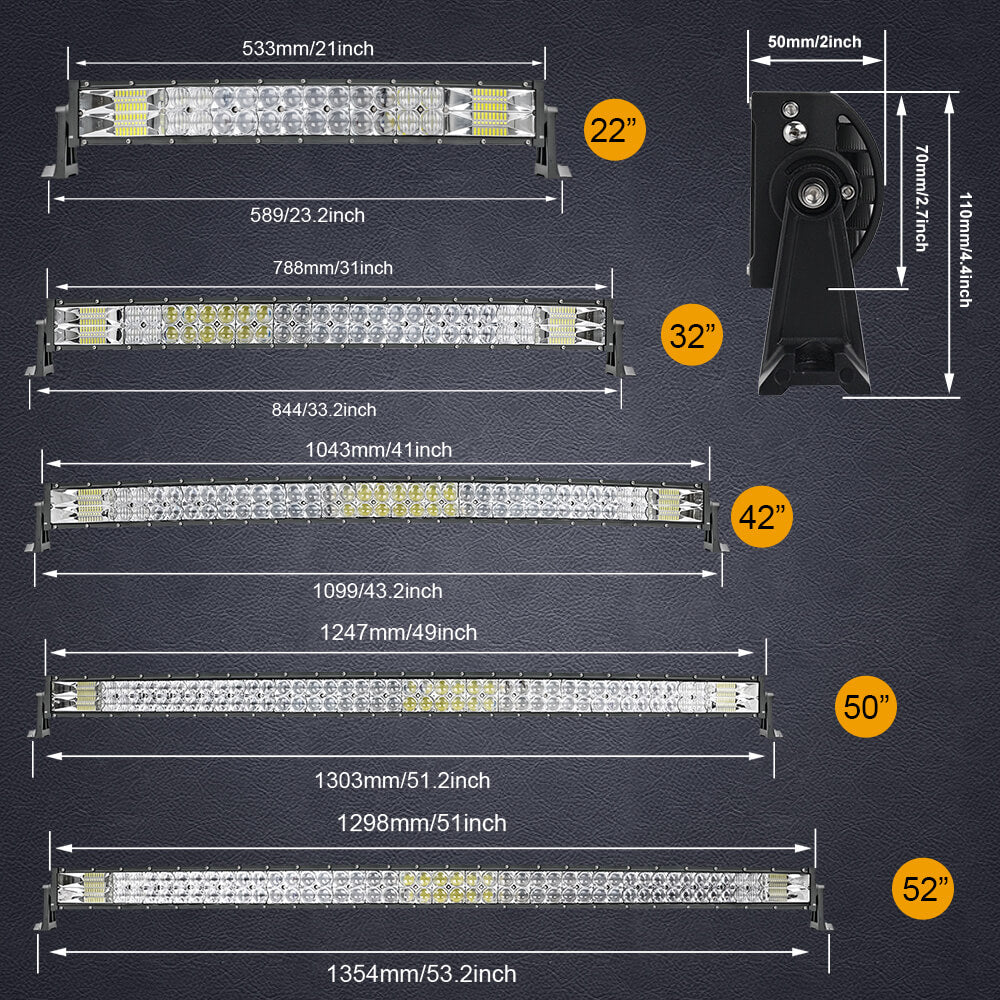 Looking for other sizes? Click here to learn more about the Led Light Bar.
Note:
They are aftermarket parts. NOT D.O.T. approved. Do not use if D.O.T. is required. Before installing this product, please check your state/provincial and local/municipal laws and regulations.
REFUND & EXCHANGE POLICY

 RETURNING & REPLACEMENT & REFUND

At Epicbeamled.com, customer satisfaction is always our top priority.

Our dedicated quality control and quality inspection team will inspect your items before shipment. The quality of our products is guaranteed. However, you do need to check the size carefully and accurately before buying. Please refer to the size chart on the product page.

On Epicbeamled.com, returns are as easy as 1-2-3! What can you lose! If you are not satisfied 100%, we will refund you. Therefore, we have covered it for you! Please contact us within 30 days of receiving the item to initiate the return process.

Returnable items
Items that can be returned/refunded or exchanged within 30 days of receipt must comply with the following standards:

1. Faulty items damaged/damaged or soiled upon arrival.
2. The received product size/color is incorrect.
3. Unwashed, unused and unused items that have not reached your expectations within 30 days after receipt.
If you encounter any of the above situations, please contact our support center as soon as possible.

If for any reason you decide that you no longer need the item. You can report it to us within 30 days of receiving it for a partial refund of the merchandise cost.

Non-returnable items
We will not accept returns in the following cases:

1. Items outside the 30-day warranty period.
2. Items that are washed, worn, used or misused.
3. Items that are damaged in the packaging.

Return process
1. Email us

-Contact us and explain the item you want to return and the reason for the return. Attach photos to resolve quality issues.

2. Make suggestions

-Professional advice will be provided. Our service team will provide you with detailed instructions.

3. Return

-Return the item to its original packaging and send it out through the local post office.

4. Refund or exchange

-After receiving your package, we will immediately process a refund or exchange according to the return conditions.

Return conditions
1. Please contact us within 30 days from the date of receipt of the order.

2. The returned items must remain unused in the original packaging. We do not accept returned items that are worn, damaged, cleaned or altered in any way.

3. We do not accept returned items sent directly back without evaluation or signal by the returning personnel. Please be sure to check the return with our staff first.

4. After receiving the returned goods, your money will be returned to you. Epiccross cannot refund, repay, underwrite or otherwise be responsible for any expenses not paid to Epicbeamled.com. This includes any customs duties or value-added tax, and any return shipping costs that you may incur during the refund process. The refund will be returned to the original payment method used for the purchase order. Once the refund is issued, you will receive a confirmation email.

5. For packages returned to us, we do not provide freight forwarding collection (FTC) services. Shipping costs for returned packages are non-refundable.

Return shipping fee and address
1. Please be sure to contact our after-sales customer service to get the specific address of the return!

2. All transportation costs are borne by the customer. This includes shipping costs for returns or exchanges. Shipping costs are non-refundable.

3. Please contact your local post office to confirm the actual return shipping cost. We recommend that you use the cheapest airmail registration method available

 
Processing Time:

We usually need 1-2 working days to prepare your orders, once we shipped, we will send you an e-mail.

About pre-sale products

All products marked with "pre-sale" are factory pre-sale products and are in production. It usually takes 30 working days to ship. Please estimate the time before ordering to avoid delay.

 Due to the weather and COVID-19,the shipping is longer than usual ,thanks for your understanding. 

SHIPPING TIME:

 America  (Excluding remote areas) 3-5 Working Days

Other Countries (Excluding remote areas) 3-5 Working Days

Some countries need to pay customs for customs clearance(the import duty amount), this is not included in the freight.                                      

Note:

The specific fee and transportation time depend on the distance of the area

If you have any further questions, please contact our services: sales@epicbeamled.com

Call us:

Our office hour: GMT+8:00 Mon. - Fri.  8:00a.m - 18:00p.m
Wow! This light is super bright and works great. The mounting hardware is a little weak but with some washers and being careful not to over tighten it works great. I have this on my Jeep bumper and it lights up the night perfectly. I was going to get more lights but there is no need. May get one for the back.
These a a clean white light. I custom mounted them because of where I wanted them located but the mounting system is easy to work with. Clean light but not the brightest. So far holds up to the elements. No real test here in California yet.
Does the job
My husband installed this on his tractor, so it is easier when we have to feed the cows at night! Seems to be working well!
There is no problem with the workmanship of the lamp. Everything is metal and neatly packaged. Brightness is also ok. as I expected.