Epiccross™ LED Chasing Glow Lights
LY-EP-TM6090APP
Regular price
$29.99
Sale price
$22.99
Save $7.00
/
Use Code: JEEP10 Get 10% Off Discount
If you fail to pay with your credit card, try changing to Paypal and Paypal Express Checkout.
Underbody Neon LED Chasing Glow Lights
● Higher Luminosity & DIY Music Sync: High Intensity SMD 5050 LED Chips. 3 In 1 RGB Chips, Brighter Output ,Uniform Lighting. Enhances the Look and Feel of your Vehicle with Brilliant Lighting Effects.With a mic on phone, you can sync your music to your car lights with ease.
● 3 Ways to Control: With efficient bluetooth connect your APP both Android and Iphone,you can customize light effects and access 16 million RGB colors or you can just select your ideal colour with your finger by wireless remote,the control box
● IP 68 Waterproof & Strong adhesive: Whole light kit Waterproof. The 5050 LED Strips are protected by the Flexible Rubber Tubing, the controller and all connectors are also made of waterproof material, well protected from Road Conditions and Debris and Rain day.
● Easy installation & Universal Compatibility: You can power the LED Chasing Glow Lights by the 12V by Positive/Negative wiring.The 12V voltage means it can be used by almost all of the car. Perfect for Cars, SUV, Jeep, Vans, Trucks, Boats decoration. And as a decorative light, it can also used to decorate your house, garden, party or anywhere you want.
● Reliable Service: With over 10 years experience on LED car lights manufacturing,Epiccross provides Satisfying after-sales service. Please do not hesitate to contact us if you have any question
● Size: 60*90 (2*60cm + 2*90cm RGB lights strips); 90*120 (2*90cm + 1*120cm RGB Lights Strips).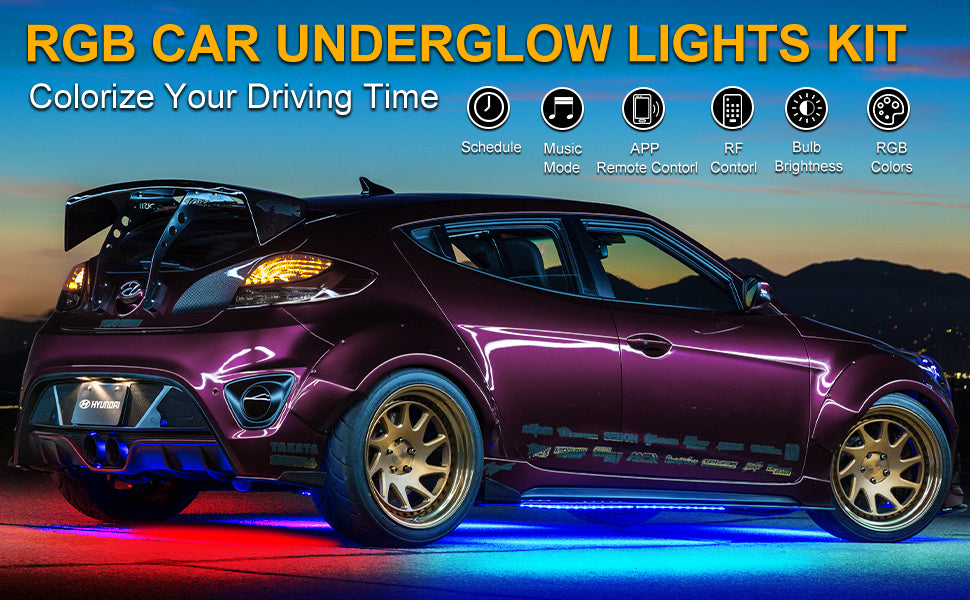 FEATURES
●Adjustable Brightness, Easy ON/OFF Button
●8 Preset Static Colors; 4 lighting effects: 2 jump and 2 fading patterns
●The Sound Active Modes, and LEDs light up according to sound.
●New Re-Designed Wireless Remote Control; Remote Range: Over 100ft
●Control with your device via Bluetooth App
SPECS
●LED Chip: 5050 SMD; 250 Total LEDs
●Power / per LED: 0.3W
●3 in 1 RGB LED Chips
●Material: Flexible Rubber Tubing
●Waterproof Rate: IP67
●Operating Voltage: 12V DC
RGB Car Underglow Lights APPLICATION
●All automobiles and devices equipped with a 12V power source.
●It also can be used in a variety of interior and exterior applications
●Including under-car, RV/van cargo truck pickup beds, footwells, rock lights, etc.
PACKAGE INCLUDES
●1 x RGB Car Underglow Lights Kit
●1 x remote control
●1 x control box/sensor with control
●1 x positive and negative power wires with in-line fuse
REFUND & EXCHANGE POLICY

 RETURNING & REPLACEMENT & REFUND

At Epicbeamled.com, customer satisfaction is always our top priority.

Our dedicated quality control and quality inspection team will inspect your items before shipment. The quality of our products is guaranteed. However, you do need to check the size carefully and accurately before buying. Please refer to the size chart on the product page.

On Epicbeamled.com, returns are as easy as 1-2-3! What can you lose! If you are not satisfied 100%, we will refund you. Therefore, we have covered it for you! Please contact us within 30 days of receiving the item to initiate the return process.

Returnable items
Items that can be returned/refunded or exchanged within 30 days of receipt must comply with the following standards:

1. Faulty items damaged/damaged or soiled upon arrival.
2. The received product size/color is incorrect.
3. Unwashed, unused and unused items that have not reached your expectations within 30 days after receipt.
If you encounter any of the above situations, please contact our support center as soon as possible.

If for any reason you decide that you no longer need the item. You can report it to us within 30 days of receiving it for a partial refund of the merchandise cost.

Non-returnable items
We will not accept returns in the following cases:

1. Items outside the 30-day warranty period.
2. Items that are washed, worn, used or misused.
3. Items that are damaged in the packaging.

Return process
1. Email us

-Contact us and explain the item you want to return and the reason for the return. Attach photos to resolve quality issues.

2. Make suggestions

-Professional advice will be provided. Our service team will provide you with detailed instructions.

3. Return

-Return the item to its original packaging and send it out through the local post office.

4. Refund or exchange

-After receiving your package, we will immediately process a refund or exchange according to the return conditions.

Return conditions
1. Please contact us within 30 days from the date of receipt of the order.

2. The returned items must remain unused in the original packaging. We do not accept returned items that are worn, damaged, cleaned or altered in any way.

3. We do not accept returned items sent directly back without evaluation or signal by the returning personnel. Please be sure to check the return with our staff first.

4. After receiving the returned goods, your money will be returned to you. Epiccross cannot refund, repay, underwrite or otherwise be responsible for any expenses not paid to Epicbeamled.com. This includes any customs duties or value-added tax, and any return shipping costs that you may incur during the refund process. The refund will be returned to the original payment method used for the purchase order. Once the refund is issued, you will receive a confirmation email.

5. For packages returned to us, we do not provide freight forwarding collection (FTC) services. Shipping costs for returned packages are non-refundable.

Return shipping fee and address
1. Please be sure to contact our after-sales customer service to get the specific address of the return!

2. All transportation costs are borne by the customer. This includes shipping costs for returns or exchanges. Shipping costs are non-refundable.

3. Please contact your local post office to confirm the actual return shipping cost. We recommend that you use the cheapest airmail registration method available

 
Processing Time:

We usually need 1-2 working days to prepare your orders, once we shipped, we will send you an e-mail.

About pre-sale products

All products marked with "pre-sale" are factory pre-sale products and are in production. It usually takes 30 working days to ship. Please estimate the time before ordering to avoid delay.

 Due to the weather and COVID-19,the shipping is longer than usual ,thanks for your understanding. 

SHIPPING TIME:

 America  (Excluding remote areas) 3-5 Working Days

Other Countries (Excluding remote areas) 3-5 Working Days

Some countries need to pay customs for customs clearance(the import duty amount), this is not included in the freight.                                      

Note:

The specific fee and transportation time depend on the distance of the area

If you have any further questions, please contact our services: sales@epicbeamled.com

Call us:

Our office hour: GMT+8:00 Mon. - Fri.  8:00a.m - 18:00p.m
show with Soul!
Advantages
3M tape sticks very well
The long strips on the sides actually fit my Kia Soul at the perfect length!
Each light strip has its own quick disconnect so you can install the strip and then still fit/maneuver the wires around the obstacle under the vehicle. Also, the taillight strips come with extensions so you won't run into reach issues.
Love the different settings and brightness adjustment features!
Super easy to install yourself! No electrical knowledge required if you use DC connectors instead of other wires.
Disadvantages
The ties are very fragile and I couldn't pull them tight without breaking them, so I used thicker ties.
If you have a longer vehicle, the additional extensions included in this kit won't hurt.
I love it!!
It took me about 4 hours to install, and I used some claps and zip ties for extra sturdiness. Great produt!
The glue on light strips not to good I just got a good glue to add on to strips
Good Quality and very easy to install you can use cigarette lighter adapter or wire to battery I chose to connect to battery great price too
Love these!
The kit is designed well and good materials are used. It takes awhile to install but the effort is worth it. we'll have to see if the kit performs for more then a few days, but as of now it works well and I am very happy with the results. Fair price and good results.
Stunning
Very amazing would recommend and buy again . No complaints here. Well I would say the 3m isn't that strong but they do provide straps with screws. I used my own penut screws to drill but the product it self is phenomenal.